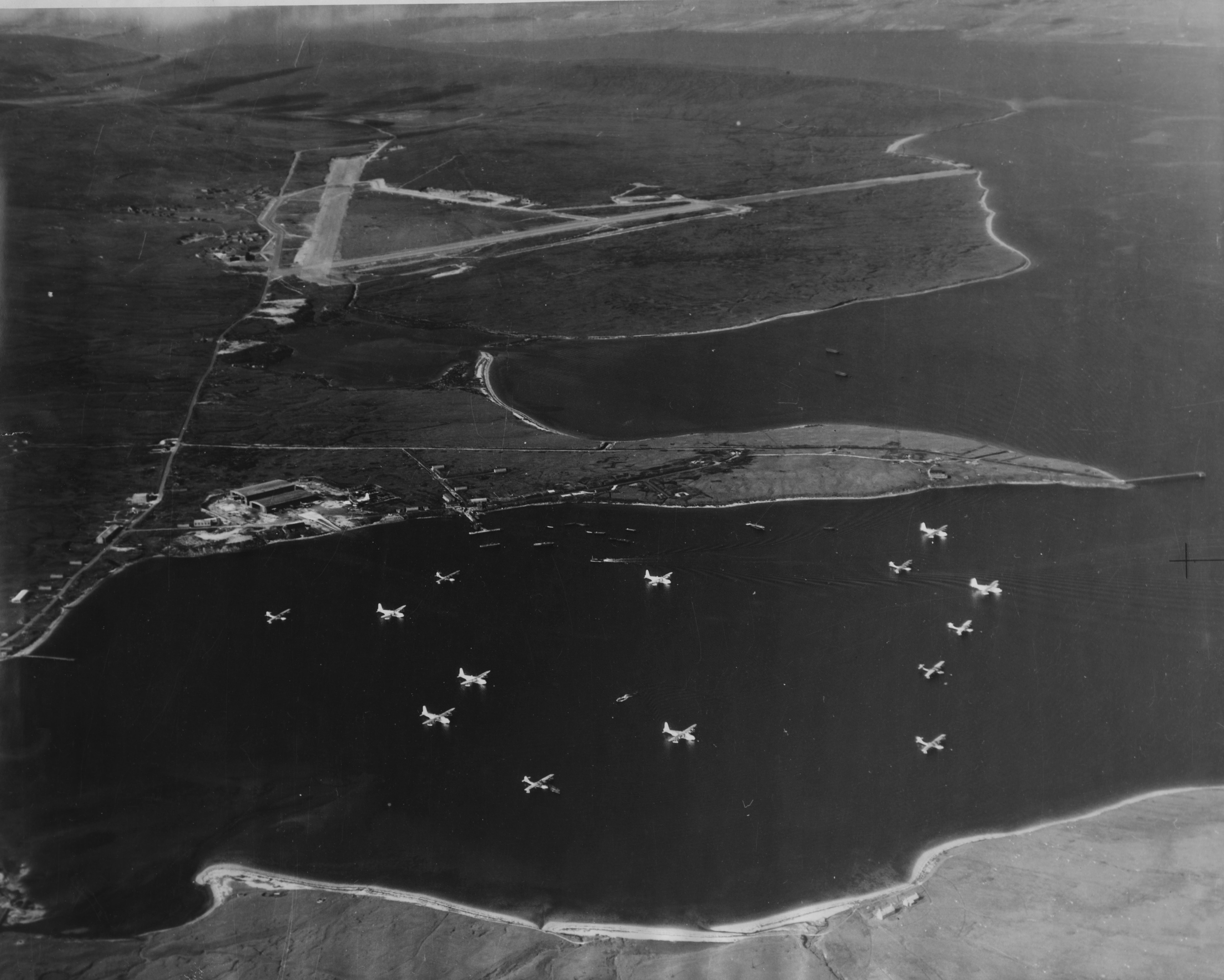 German U-boats, a Victoria Cross winner and life-saving pigeons were all part of Scatsta and Sullom Voe's story, long before they served the oil and gas industry.
Tales of exceptional bravery and defending Britain's northern coast run through Shetland's past in a chapter before oil was discovered in the 1960s.
Davy Cooper, a historian from Shetland Amenity Trust, believes it is crucial that the region's role in World War Two is remembered.
He said: "It is becoming more and more important because the number of people who were there and experienced it first-hand is becoming fewer and fewer.
"We need some kind of record of what went on there."
Scatsta airfield, which today serves thousands of workers travelling to and from offshore rigs, was set up as an airforce fighter plane base in the 1940s, supporting flying boat operations at nearby Sullom Voe which is today a major oil and gas terminal.
The airfield was a first line of defence against northern air attacks, with an anti-submarine unit at Sullom Voe, preventing German U-boats from attacking ship convoys.
The "catalyst" for its establishment was the invasion of Norway by Germany, and the potential for attacks to be launched from there.
"To some extent it was a line of defence but the northern approaches were the way that enemy U-boats slipped in the North Atlantic to attack convoys", Mr Cooper added.
"That's why the anti-submarine patrols were deployed there to stop them slipping between Shetland and the Faroe Isles.
"The anti-submarine patrols would catch them on the surface and when they did, they could use depth charges."
Blenheim and Hurricane bombers were stationed there, as well as amphibious Catalina seaplanes at Sullom Voe.
Aberdeen-born John Cruickshank piloted one such flying boat and won the Victoria Cross after sinking a German submarine in the Norwegian Sea at just 24 years old.
He released depth charges to sink the U-boat despite coming under heavy fire and being struck in 72 places due to shrapnel.
Mr Cruickshank, now 98, earlier this year was honoured as part celebrations marking 100 years of the RAF.
Another notable episode was the use of Scatsta as a home port for an operation to sink the Tirpitz, a Bismark-class warship in Norway.
Perhaps less well-known is the story of White Vision, a pigeon that saved a Catalina bomber crew which had to ditch in stormy conditions in the Atlantic.
The exhausted bird flew more than 100miles to an RAF base which sent out a rescue team, saving the crew from drowning, and White Vision was awarded the Dickin Medal – the equivalent of the Victoria Cross for animals.
The war effort made a huge contribution to Shetland's economy, much as oil and gas does today.
Despite the time difference between the two, there is a case of them working together.
Near the modern-day Sullom Voe terminal lies an anti-aircraft gun battery with examples of World War Two graffiti, depicting the likes of Hitler and Churchill.
Due to its proximity to the terminal, around half a mile west, the gun at Callback Coast is "virtually inaccessible", helping it remain well-preserved.
Chris Dyer, a local archaeologist, said: "The preservation is amazing. It really helps us interpret the military history of Shetland itself.
"A lot of these military structures were never really designed to last, they were made out of necessity, but they still manifest themselves within the landscape of Shetland.
"It's of absolutely fundamental importance that we maintain these stories and structures."
Recommended for you
X

Ellon-based engine pump maker seals new six-figure deal