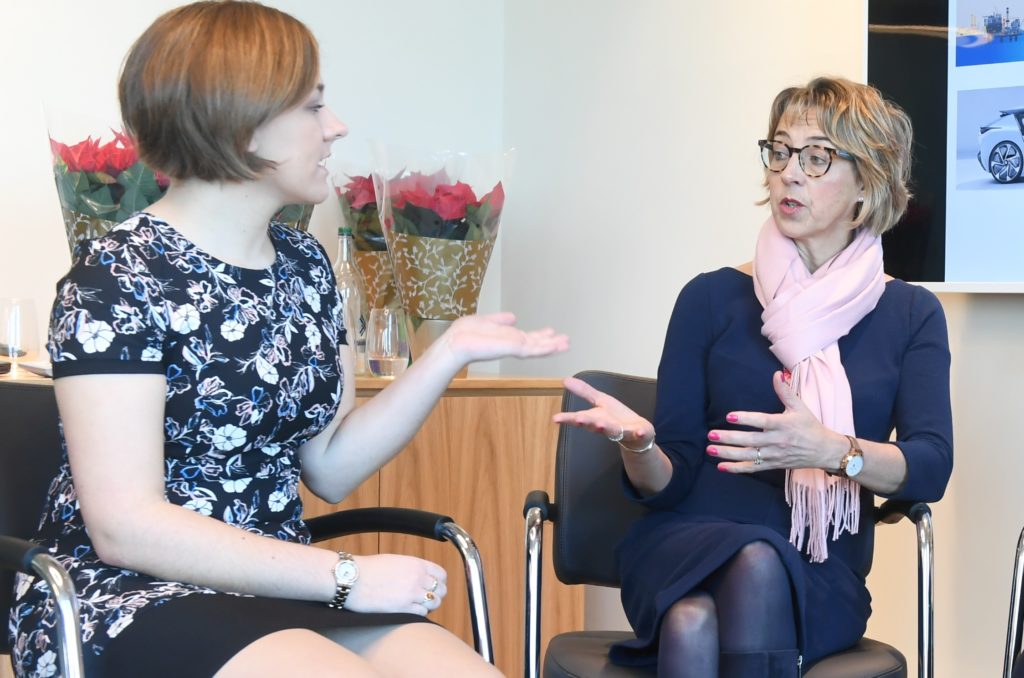 A "real crisis" exists in Scottish entrepreneurial education, the head of a north-east business school said yesterday.
Professor Elizabeth Gammie of Aberdeen Business School claims Scotland is "lagging significantly behind" other countries and said there was a gulf between intention and action in the sector.
Prof Gammie was speaking as part of an all-female panel during a women in business event held at the Royal Bank of Scotland's Aberdeen headquarters.
The academic was joined by Anna Tomlinson, head teacher at St Margaret's School for Girls, Royal Bank of Scotland Software Engineer, Carla Taylor, and the Oil and Gas Technology Centre chief executive, Collette Cohen.
Prof Gammie said: "There is a real crisis in entrepreneurial education. There's lots of spirit but what we need is a combination of spirit and skills.
"We're still lagging significantly behind and there is a lot that Scotland still needs to do to encourage young people to set up and grow their own businesses. We are seeing some movement but our view is that much more direct action is required."
A qualified accountant, Prof Gammie said there was a lot more Scottish universities could be doing to narrow the gap between business dreams and reality.
She said: "Lots of young people aspire to be entrepreneurs but then there is a real gap between young people's intention and the action that they actually take. Few people actually go on to set up their own businesses.
"We need close the gap between the intention and the action. Universities really have a role to play in increasing the business scale up opportunities"
According to Prof Gammie, the entrepreneurial sector also suffers from a dearth of young female talent, adding that risk aversion often works against women looking to achieve success.
She said: "There's a whole lot of research that says men are much more prepared to take on risk than women. Women tend to be more cautious, and it can hold them back.
"It's often necessary to take that step into the unknown. When something goes wrong, men are much more likely to try something else, women focus on the negative as opposed to saying 'let's move on'.
"Women are less likely to keep going and so many successful entrepreneurs have had several failed businesses before they find the magic answer."
Asked what can be done to combat female risk aversion in business, Prof Gammie said: "Men are much more likely to ask others to come in to back their business whereas women are more cautious. I think we need to be aware these differences exist. Young women need to know that this is a common process in their entrepreneurial journey and that they can't give up."
New figures showed yesterday only 6% of Scottish Government-supported modern apprentices (MAs) in the engineering and energy-related sectors are female.