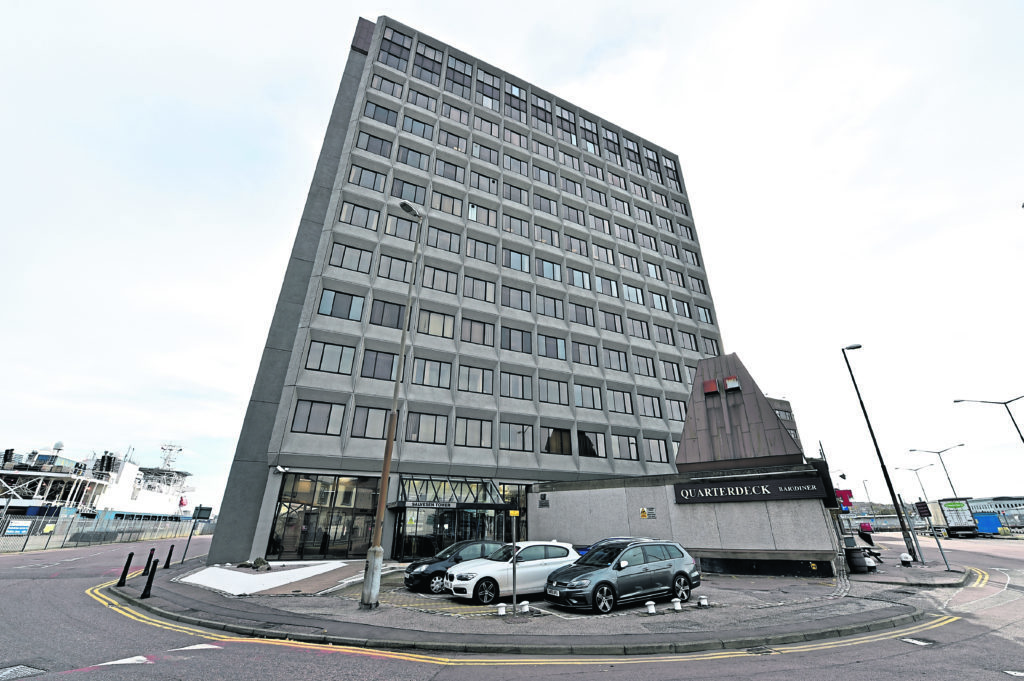 An office building in the heart of Aberdeen has changed hands for an undisclosed sum only weeks after it was snapped up at auction for just £20,000.
The 11-storey office block, on Blaikie's Quay, was once worth about £5 million.
Glasgow-based Standard Real Estate (SRE) said yesterday it had acquired the main building and a pub next to it, but not the adjoining warehouse, from a mystery property invester who purchased the assets at auction on October 16.
SRE, which is controlled by Hamish Munro and Scott Campbell, plans to invest up to £1m in the property over the next year to bring its office accommodation up to the required standard.
Mr Munro said yesterday he hoped the ample parking and "good value" rental prices starting from £6.50 per square ft would be attractive for prospective tenants.
He added: "We have considerable experience in office refurbishment and lettings, with recent successes in Clydebank, East Kilbride and Ayr – all in buildings where it was said their was little demand and the buildings were at end of economic life – as well as our core office portfolio in central Glasgow.
"Our philosophy is quite simple – to provide good quality, refurbished office space at economic rental levels … that allow small companies the freedom to grow without onerous lease terms."
Each floor of the building extends to about 3,000sq ft, much of which is currently unused. A few existing tenants are nearing the end of their leases.
SRE has made no decsion on the long-term fuure of the pub, although it may consider alternative uses.
The company also owns a 12,000 sq ft building at 4/5 Golden Square, Aberdeen, which is let to multiple tenants.
Mr Munro said the firm was keen to add to its Granite City porfolio and had already put in an offer on another site.
He added: "We're hoping to settle on that one before Christmas and are also currently in discussions with the vendor of another property in the city."
Rocketing business rates and the oil and gas downturn saw Salvesen Tower go from a thriving office complex to a concrete shell at the harbour.
The building was owned by Barratt Commercial before its sale at auction – for a bargain price -last month.
Mr Munro said SRE would have been in for it then if it had known about it, but was grateful for "a second bite at the cherry".
Salvesen Tower is not the only building in Aberdeen to have plummeted in value in recent years.
Custom House on Guild Street recently sold for £1m, despite being valued at around £4m, while the KMD building on Wellington Circle is reportedly being auctioned with a reserve price of £350,000, when it was once valued at around £3.5m.
Next month, Silverburn House at Bridge of Don – home over the years to firms such as GE Oil & Gas and Vetco Gray – will be up for auction in London at a list price of £1.25m.
Recommended for you

Aberdeen commercial property investment market turns corner