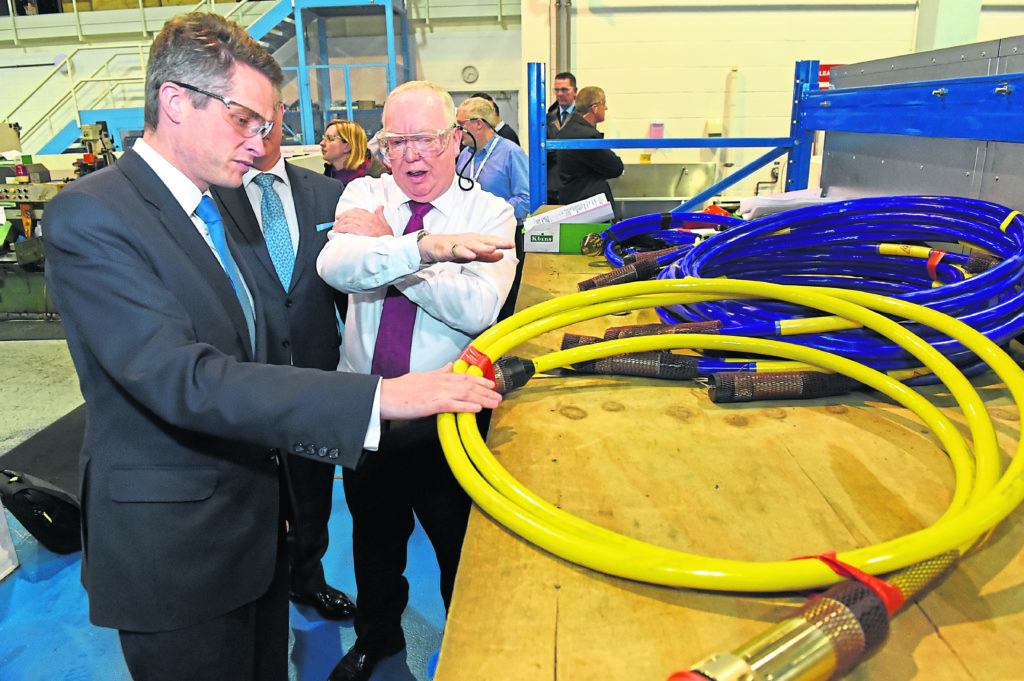 Scottish engineering firm Hydro Group is bolstering Britain's defences amid growing demand for its services in military markets around the world.
The Aberdeen company is part of the supply chain behind the UK's seven-strong fleet of Astute-class, nuclear-powered hunter-killer submarines, some of which are still under construction.
Hydro Group managing director Doug Whyte said the new Dreadnought-class submarines, which will carry the UK's Trident nuclear weapons after they replace the four-strong Vanguard fleet from the 2030s onwards, were "the next big thing for us".
He was speaking during a visit to the company's Bridge of Don headquarters by Defence Minister Gavin Williamson and north-east MP Colin Clark.
Hydro Group employs more than 100 people in the design and manufacturer of underwater cables and connectors for subsea, underwater, topside and onshore applications.
For many people in the north-east, the firm is best known for its services to the North Sea oil and gas industry.
Mr Williamson and Mr Clark discovered the proportion of revenue generated from defence-related business is "now at 60% and growing".
Mr Whyte said the company was supplying engineered products to navies globally, with the UK, Taiwan, South Korea and Australia among the target areas on its radar.
Projects like Dreadnought, on which the UK Government is spending at least £31 billion, can be a "lever" for Hydro Group winning other work around the world, he added.
Mr Williamson said the Ministry of Defence spent more than £1.6bn a year on the Scottish supply chain, protecting in excess of 10,000 private sector jobs.
The minister added: "Hydro Group makes a clear and valued contribution to the operational capability and effectiveness of the Royal Navy submarine service, which will be entirely based in Scotland from 2020."
Mr Clark, MP for Gordon, said Hydro Group was another example of north-east innovation.
Hydro Group won a coveted Queen's Award earlier this year, when managing director Doug Whyte said new subsidiaries in Asia and the US had driven its international operations to "the next level".
Mr Whyte, who co-owns the Ramsay Arms Hotel, at Fettercairn, near Laurencekirk, was born in Edinburgh but spent some of his childhood in Aberdeen.
He returned to the north-east at 16 to study electrical engineering at the Robert Gordon Institute of Technology.
After stints with Ferranti, Seaforth Maritime and Vickers-Slingsby, he established Hydro Bond Engineering – now part of Hydro Group – in 1982.
The group now serves energy and defence industry customers around the world.
Its oil and gas clients include blue-chip and major operators and contractors in domestic and international subsea markets.
Other gongs for Hydro Group over the years include the company of the year accolade at the 2017 Subsea UK Awards and, for Mr Whyte, the firm's 64-year-old majority shareholder, a director of the year title at last year's Institute of Directors Scotland Awards.
Accounts lodged at Companies House show the group narrowed pre-tax losses to £50,211 during the year to March 31 2018, from more than £254,000 in 2016-17.
Turnover grew by more than £1 million to £91.7m in the latest period, while the group boasted an order book worth nearly £15m.
But signing off the figures, director Elaine Blair said the financial performance was disappointing and worse than expected.
She added: "Increase in overheads, with a squeeze on margins and slower pull-through of contracts have been a challenge."
Ms Blair also reported "a tendency to hold back on investment" as part of the firm's focus on cost-
cutting.
Recommended for you

Buyout sees Perenco North Sea partner HH LAPS become Everard Energy