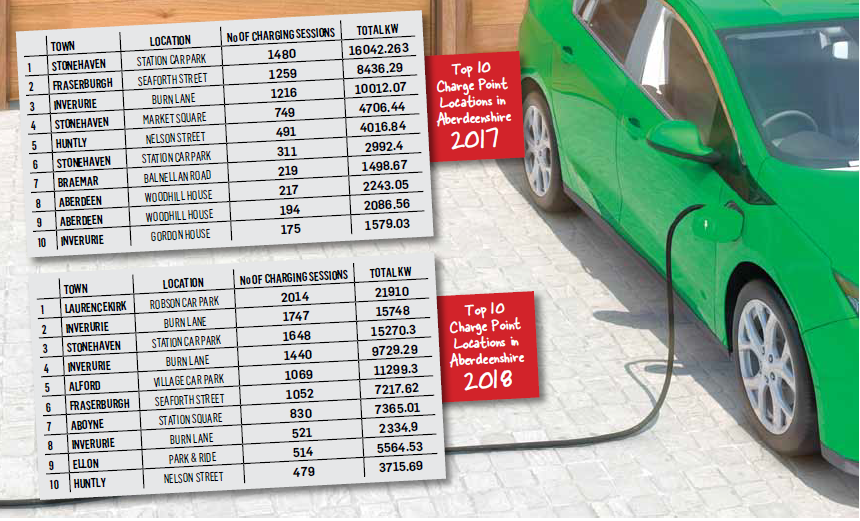 Motorists in the north-east are embracing the electric car revolution with a significant increase in the use of charging points.
Official council statistics have highlighted 11,314 visits to local authority stations in 2018, almost double the 6,311 figure from last year.
The cars help cut harmful emissions and drivers can charge them within a matter of minutes at one of the points.
The Rapid 50 kilowatts facility at Stonehaven's train station car park ranked the most visits in 2017 with 1480 sessions generating more than 16,000kw of power.
Fraserburgh's Seaforth Street charger was in second place with 1259 sessions leading to nearly 8,500kw of electricity.
Figures for 2018, from January until November, show the Robson Car Park charging point in Laurencekirk was number one in Aberdeenshire with more than 2,000 sessions and 20,000kw.
Burn Lane in Inverurie came in second with 1,747 charges leading to 15,748kw of power generated.
Alister Hamilton from the Electric Vehicle Association (EVA) Scotland said he was "encouraged" by the figures.
And he expects more and more people will decide to ditch their traditional cars and go green in the future.
Mr Hamilton said: "These are very encouraging figures which show that the people of the north-east are increasingly embracing EVs.
"Both the total number of sessions at the top 10 locations, and the power they delivered, has roughly doubled. We would hope and expect that local capacity will continue to expand to meet demand.
"As the price of EVs continues to fall, and as the battery range continues to rise, which is happening all the time, more and more people will switch."
Councillor Brian Topping welcomed the figures.
He said: "I am happy at the usage in the Broch.
"It shows good usage, but if the council and others are really serious, and the public start buying more electric cars, we will need many more charging points."
East Garioch councillor Martin Ford said it was important that the council backed ways to cut harmful vehicle emissions.
He added: "It is essential we reduce carbon emissions from transport in order to meet overall climate change targets.
"So the council has policies to promote cycling, walking and public transport options, but also makes provision for electric vehicles.
"Usage of our electric vehicle charging network continues to grow year on year."
Last night, a council spokesman said it was "clear" there was an increase of demand and that the local authority is gearing up to respond to it.
He said: "We are supporting this growth through the delivery of the Ultra Low Emission Vehicle delivery plan and are installing 36 new or replacement chargers before March."
Recommended for you
X

Progress for Scottish stock exchange proposal