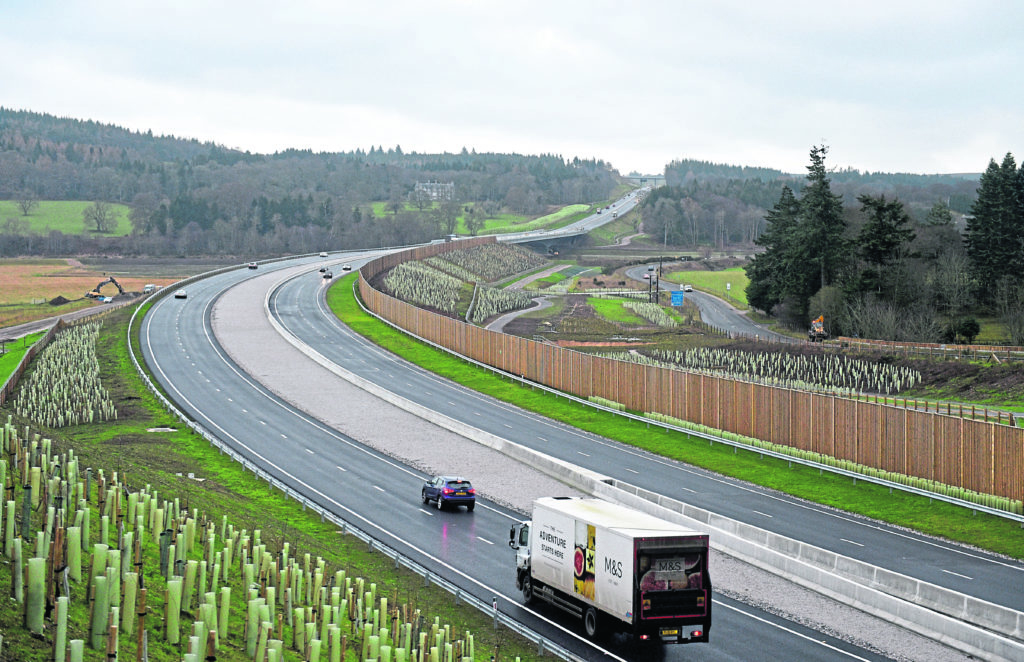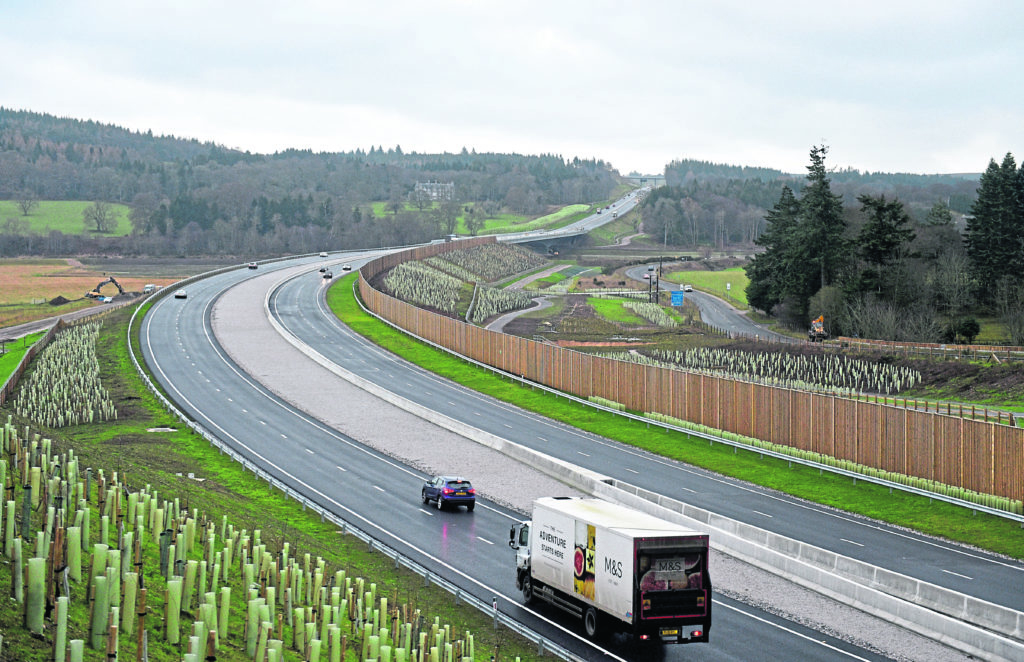 Motorists enjoyed instantly faster journey times yesterday as business and political leaders celebrated the grand opening of the first major section of the long-awaited Aberdeen bypass.
The 20-mile Craibstone to Stonehaven section of the £1 billion Aberdeen Western Peripheral Route (AWPR) began opening to drivers at 2am.
Roads teams had worked throughout the night to ensure it was finally ready to be unveiled after months of frustration.
The first 7.5 mile section of the bypasss, between Balmedie and Tipperty, opened back in mid-August but further sections have been delayed by contract woes and defects found in the Don crossing.
It took pressure from the Scottish Government to persuade contractors to open the Craibstone to Stonehaven section ahead of sign-off on the final stretch.
It has in fact been ready for traffic since October but only yesterday was it finally brought into use.
Such woes were set aside as it welcomed motorists for the first time, bringing significant drops in journey times.
Transport chiefs said the impact would be even greater once the remaining Don crossing section is completed.
Drivers used to traffic gridlock in notorious bottlenecks in the city including the Kingswells roundabout, the A96 Aberdeen to Blackburn road at its junction with Dyce Drive, and the River Dee crossing at Milltimber, all reported much smoother journeys and shorter queues.
Some motorists testing out the new route were able to commence their journeys on the bypass at Stonehaven and arrive at the airport roundabout just over 15 minutes later.
One of the key benefits announced when plans for the AWPR were first put forward was that it would lead to a reduction in the number of heavy goods vehicles driving through the city centre.
Martin Reid, director of the Road Haulage Association, said that with the first significant part of the bypass now open to traffic, he hoped lorry drivers and other motorists would be able to take advantage of faster journey times.
He said: "Anything that makes traffic flow more freely around Aberdeen is most welcome.
"The AWPR is going to make a big difference and we hope that all of the sections will be able to open before Christmas, as has been indicated.
"We have a situation where, if lorry drivers are needing to deliver to the city centre, then they will still be using the city centre, but we hope the bypass will divert traffic from the congested roads in the city and beyond once it is fully up and running."
Douglas Lumsden, co-leader of Aberdeen City Council, added: "I'm just glad it's finally open.
"It will be interesting to see the impact it makes on existing roads in Aberdeen and Aberdeenshire.
"Hopefully we will see much less traffic going straight through the city – one area in particular where I know we get a lot of lorries is Market Street – and traffic flowing a lot more smoothly.
"Obviously we've still got one final piece to go, with the new Don crossing still to open, so we won't see the full benefit until it's completely finished."
It is hoped the final section of the AWPR will be open by the end of the year.
Aberdeenshire Council leader Jim Gifford said: "It's long, long overdue but now that it's finally here, it really is fantastic.
"I went out of my way to use a section of it on my way into work and the results were just tremendous.
"I have had similar feedback from a lot of people as well who have told me it's really made their journeys a lot faster.
"All we need now is the final part to open up and we will really see the full benefits of the AWPR."