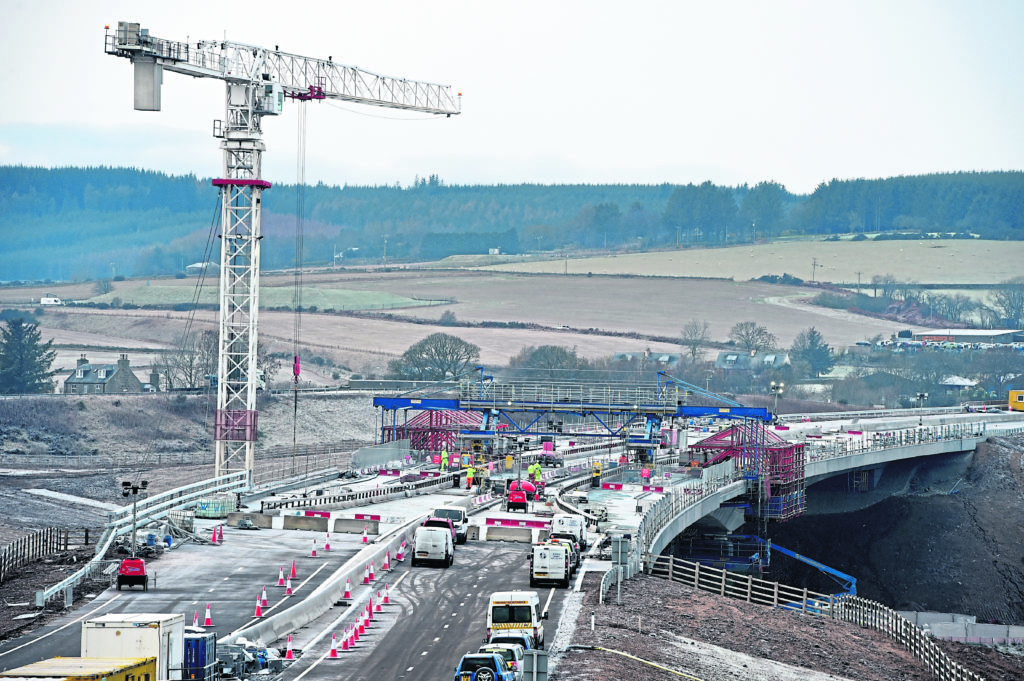 The AWPR will now not be finished until the new year, despite contractors promising the billion-pound route would be finished by Christmas.
Transport chiefs have admitted there have been further setbacks with the Don Crossing and it will now not be open until January at the earliest.
Yesterday, when questioned by north-east MSP Maureen Watt in parliament, Michael Matheson admitted contractors Aberdeen Roads Limited (ARL) had told officials two days prior that the bridge was still not ready to be opened.
Despite the transport minister insisting he had always openly questioned ARL's "ambitious" timescales, he still came under fire from opposition politicians who accused the government of a "cynical ploy" to "sneak" out the news on the last day before the Holyrood recess.
Peter Chapman, North East MSP and a member of the rural economy and connectivity committee, said Mr Matheson's actions were an "affront to the people of the north-east".
"I said before that a pre-Christmas opening for the whole route was very optimistic. However, news that a January 2019 opening cannot be guaranteed will be met with utter dismay."
The majority of the route was opened to much fanfare last week. The first 7.5-mile section, between Balmedie and Tipperty, opened in mid-August but further sections have been delayed by contract woes and defects found in the Don crossing.
Lewis Macdonald MSP said the latest announcement demon-strated a "complete failure" of accountability.
He said: "Ministers admitted they have known since Tuesday the promise given to open the Don Crossing in December would not be met yet kept this further failure secret until the very end of first minister's questions at Holyrood today. This cynical ploy shows a profound disrespect for parliament and a complete failure on the part of SNP ministers to be accountable to the people of Scotland."
Aberdeen Donside MSP Mark McDonald said it was "bitterly disappointing" to learn of a further delay and questioned why contractors had put a date out there, which only served to create further expectation.
In a lengthy statement, in which he was critical of contractors Aberdeen Roads Limited, Mr Matheson warned ARL the government would withhold payment until there were "critical assurances" the bridge was safe for the public to use.
He said: "This week, ARL informed us it was no longer able to meet its own deadline of concluding works at the Don Crossing before Christmas. I have consistently urged realism about ARL's ambitious timescales. Unfortunately, as disappointing as this news is, it comes as no surprise to me it has been unable to achieve this.
"My officials and I will continue to work constructively and offer every assistance to get the remaining 4.5 miles open as soon as possible. I also want to pay tribute to the workforce who
have been working hard during this most challenging time of year.
Mr Matheson added: "It is well known that ARL has experienced a series of technical issues during the construction of the Don Crossing.
"In order for this government to protect the public purse, it is imperative that ARL provides the necessary technical and commercial assurances for the Don Crossing.
"We cannot and will not contemplate releasing payments for this structure without these critical assurances."
Recommended for you

Winning Cromarty green freeport could stem tide of Highlands population decline