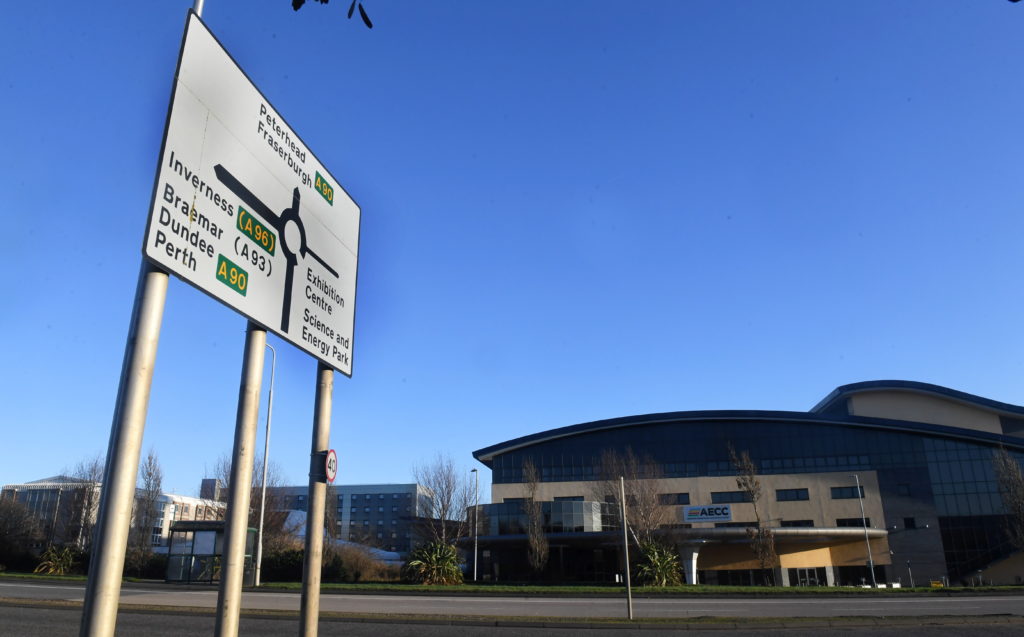 Concerns have been raised about road safety as Aberdeen's new bypass struggles with inadequate signage.
Motorists have reported severe difficulties in deciphering details on even the largest signs on the AWPR at night.
Place names – which were formally covered with black-tape – are reportedly reflecting a glare at drivers in the hours of darkness, making them hard to read.
A number of small temporary signs also remain in place on junctions and roundabouts, with some motorists claiming their lack of visibility has led to some drivers making last second manoeuvres.
The Government agency has said it is in the process of overhauling signage, but described it as "a significant undertaking".
Local businesses, motorists and politicians have again called for Transport Scotland to improve their signing on the road and Luke Bosdet, of the AA, has urged roads bosses to take action.
He said: "Confusing signs pose a danger to all drivers and increases the risk of accidents.
"Glare from signs at night means that motorists have to work much harder to read directions.
"On the AWPR's busy roads and roundabouts the last thing we want is someone to get killed as a result of being distracted from the road."
Tauqeer Malik, who represents Lower Deeside, recently hit out at the lack of signs leading to Peterculter, saying the roads were "confusing" for people new to the area.
And MSP Peter Chapman has also demanded that Transport Scotland improve signage on the AWPR.
He said: "Drivers are clearly still struggling with some of the blacked-out signage on the AWPR.
"I personally find it very confusing – particularly in the dark. I have taken a wrong turning on several occasions now."
Mr Chapman hit out at Transport Scotland last year for "cutting off local communities."
The Cock and Bull in Balmedie said yesterday it still is "inundated with calls" from lost and exasperated customers.
Mandy Davidson, owner of the restaurant, said: "People are calling us all the time for directions.
"It seems to mostly affect people coming from the north, such as Peterhead and Ellon.
"We had an old couple who finally made it to us last week, after turning back on three occasions because they were thrown off by signage.
"Transport Scotland keep telling us the signage is "adequate", but it can't be adequate if drivers are getting lost."
The Cock and Bull has the option to purchase a Visit Scotland brown sign, but said that would be costly.
A spokeswoman from Trump International Golf Links in Balmedie added: "Staff, suppliers, visitors and guests have struggled to navigate the road diversions and continue to experience difficulty with the road network as a whole due to the absence of signage.
"The impact on properties and businesses along this stretch of the former A90 cannot be overstated and the safety issues resulting from the changes to public transport of grave concern.
"For a major infrastructure project of this nature the planning, communications and management has been nothing short of appalling."
The AWPR has opened over several months, with the full route still not totally accessible to drivers due to faults on the Don crossing.
Aberdeen Roads Limited (ARL), which is now formed as a joint venture between Galliford Try and Balfour Beatty, has said the Don Crossing is now expected to be completed this month, but has not ruled-out further delay.
A Transport Scotland spokesperson said: "There are a mix of trunk road and local authority roads which require signage to be updated.
"These works are being progressed by the road operating company and the relevant local roads authority.
"This is a significant undertaking and work has already commenced to ensure this task is completed as quickly, and as safely, as possible, while minimising any impact on road users.
"Meanwhile, road users should plan their journeys in advance and leave in plenty of time to get to their destination safely."