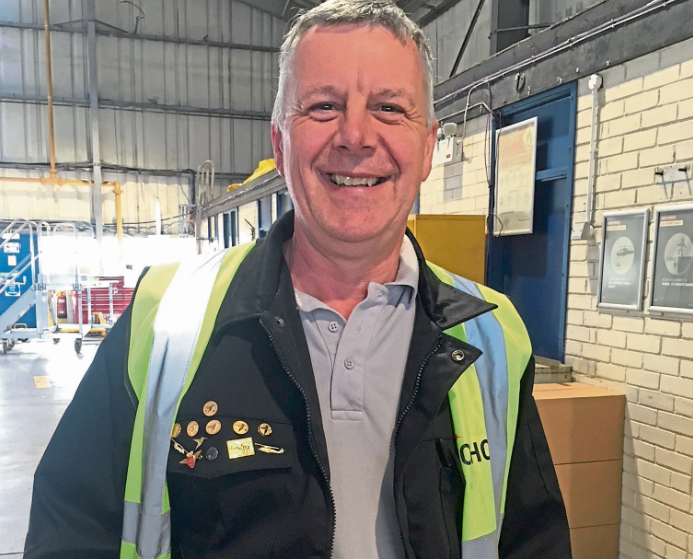 As the latest recruits make their way at CHC, Eddie Matthews, a helicopter operator in the North Sea, is keeping a watchful eye on their progress.
He has been maintaining aircraft for 40 years, having started as an apprentice with the company in 1978 when he was 16 years old.
From working on Concorde to adapting to new technology, there's not much he doesn't know about the trade or the strict health and safety regulations which now govern it.
The company employs 100 engineers at its main operational centre in Aberdeen.
The apprenticeship programme lasts three years and the next generation of helicopter engineers will be mentored by Eddie, who can still remember how he felt on his first day of work.
"We have had an apprenticeship programme at CHC UK for many years, even during industry downturns," said Eddie.
"I spend time with the apprentices, teaching the avionics side of helicopter engineering.
"But I never forget how it felt to be a young guy starting out.
"The young people we have now have the same enthusiasm and passion for machines. That's essential for the job we do."
CHC's regional maintenance manager Lee James was trained by Eddie having started his career as a mechanic after serving in the Royal Air Force.
"After learning from Eddie, I know first-hand the knowledge our experienced engineers can share and the remarkable training on offer to the next generation of apprentices," he said.
Although Eddie is a familiar face at CHC, he has enjoyed moving with the times thanks to advances in technology.
"The pace of change in the aviation industry has been incredible, with computers and software playing a much greater role," he said.
"In some ways this has made the job less hands-on as the technology plays a greater role and we have become more avionics specialists.
"But we still have to be expert mechanics.
"Helicopters are some of the most complex and sophisticated machines in the world, so the job is challenging, but also very rewarding.
"As aircraft engineers we literally do everything by the book and we are also strictly regulated as an industry.
"Every day we ensure our aircraft are in perfect condition to fly.
"It's a big responsibility."
The combination of training in helicopter avionics and mechanical engineering is a crucial part of the job and CHC is playing a leading role in training the engineers of the future.
To find out more, visit the CHC careers page at www.chcheli.com
Recommended for you

Sky not the only limit in future North Sea aviation