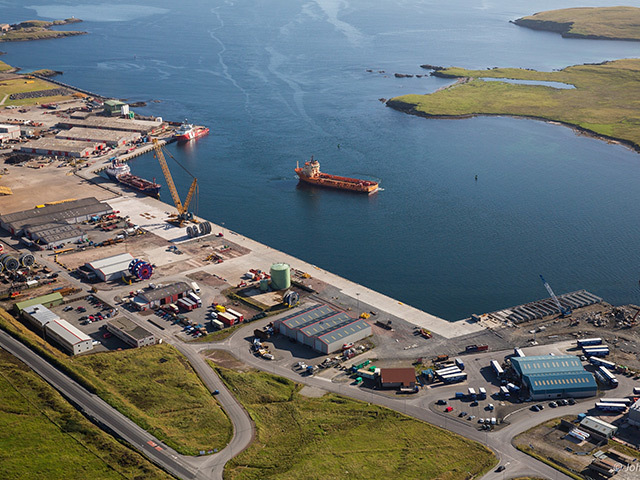 Cruise ships, fishing boats and ferries helped boost activity levels at Shetland's main harbour last year, according to figures released by Lerwick Port Authority (LPA) yesterday.
The statistics showed that, compared to 2017, the number of vessel arrivals rose 6.7% to 5,226 and the gross tonnage of visiting shipping increased 10% to a total of 12.8 million gross tonnes.
Passenger numbers leapt 26.4% to 225,479 over the same period.
LPA said the rise in vessel visits last year was mainly due to more liners arriving, increased fishing activity and the addition of a third freight ferry for peak periods by operator Serco NorthLink.
During a record-breaking cruise liner season, the number of seaborne tourists arriving in Lerwick soared 78% year-on-year to 90,336.
Total ferry passenger numbers were up by 5.9% at 135,143.
There were also record white-fish landings at the port in 2018, with a 9.4% increase on the year before to 250,246 boxes, which sold at an average price of £2,009 per tonne.
LPA said that more herring was landed last summer than in 2017, with prices "comparable."
Reflecting continuing lower levels in offshore industry activity, the amount of cargo handled at Lerwick was down 10% last year, compared with 2017, at 832,618 tonnes.
Port authority chief executive Calum Grains said: "While we anticipate another quiet year for offshore industry activity, growing sector interest in west of Shetland and preparations for the arrival in 2020 of the Ninian Northern platform topsides for decommissioning at Dales Voe are encouraging.
"So too are positive trends seen last year, with a healthy outlook for fishing and an another record cruise season, with 113 vessels booked, up over 20% on 2018 and expected to bring 91,000-plus passengers."
LPA said Lerwick continued to be a popular destination for UK and foreign yacht crews during 2018, with the 541 arrivals marking a 2% increase on the previous year.
Recommended for you

Industrial action at Lerwick Port expected to hit oil and gas operations hard