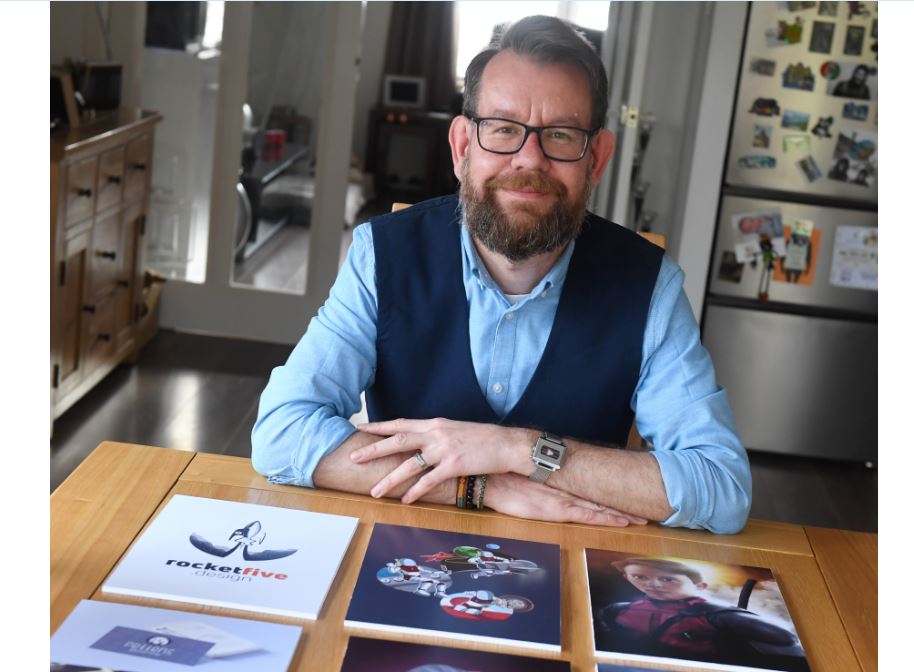 Business is taking off for a graphic designer who was recently made redundant from the oil and gas sector.
Neil Ruddiforth had to play a "waiting game" when rumours emerged that the digital training firm he had worked at for more than a decade was being bought over.
The sale took place at the end of last year, with Neil being made redundant, however that offered him a chance to pursue a life-long dream.
He has since set up his freelance business Rocket Five Design, based in Aberdeenshire, with the name and logo reflecting his love of 1950s science fiction.
Neil, who has 20 years of experience as a graphic designer, said he couldn't pass up the chance to take on a new challenge.
"It's always been in the back of my mind and with the company I worked for being bought out, I knew redundancies were coming up," he said.
"I just thought this would be the perfect opportunity to give it a try.
"It felt like the doorway was opening and it took some guts to walk through it really.
"When you're working full time, it's always easy just to dismiss it because you're thinking about getting a steady wage and it's easy.
"I think the nerves of actually going ahead and doing something like this would have been too overwhelming if it wasn't for the redundancy coming up."
In order to make that leap of going it alone, Neil looked to his wife Alison who has also previously faced redundancy from the oil and gas sector.
He added: "I remember when we were told the buyout was happening I phoned her up and I asked if she wanted me to do this and she said yes.
"My wife was made redundant in the oil industry and now she runs her own dog grooming business called Pettens Grooming, so she was always giving me the push, saying 'you've got to go try this, you're good enough to do this yourself'."
That, according to Neil, was it, and he decided to go out on his own after taking voluntary redundancy.
After a series of development classes at the Business Gateway, he officially set up Rocket Five Design three weeks ago.
Since then, he has already amassed a collection of clients doing brand work, logos and even an album cover.
He said he has no regrets about shooting for the stars.
"I'm feeling excellent about it. The satisfaction I'm getting from it is unbelievable and the feedback really makes your day," he added.
"There are going to be a couple of times when it doesn't quite go right and you accept that as part of the job but that's what I like about it, talking to the clients, getting to know them and what they need. It's problem-solving at the end of the day.
"There's a balance there of working and setting the business up, so my to-do list seems to get longer, not shorter.
"I don't know what's going to happen next but if it carries on like this it will be amazing."
Recommended for you
X

Oil sector's cultural diversity a double-edged sword