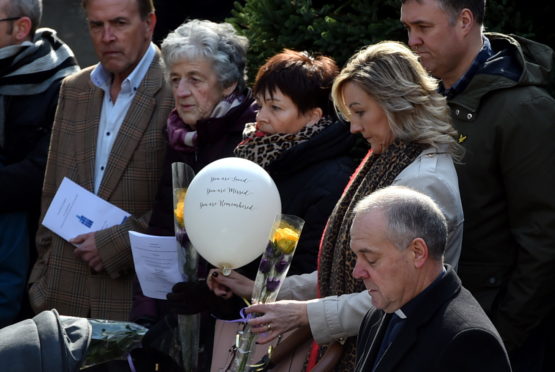 The families of the 16 men who died in the Super Puma crash north of Peterhead on April 1, 2009 met in Aberdeen yesterday for a poignant ceremony marking 10 years since the tragedy.
Mothers, fathers, sisters, brothers, sons and daughters of those killed in the North Sea disaster met at the memorial in the city's Johnston Gardens at noon.
UK Oil and Gas chaplain Gordon Craig spoke to the gathered mourners, before reading out a roll call of those that lost their lives 10 years ago.
The men who died in the tragic helicopter crash were Brian Barkley, Paul Burnham, James Costello, Alex Dallas, Raymond Doyle, James Edwards, Vernon Elrick, Nairn Ferrier, Nolan Goble, Gareth Hughes, Richard Menzies, Warren Mitchell, David Rae, Les Taylor, Stuart Wood and Mihails Zuravskis.
After a piper's lament, the gathered friends, families, colleagues and well-wishers held a moment's silence in honour of the crash victims.
Floral tributes were piled high around the black obelisk erected in memory of those who died on Flight 85N.
One tribute addressed to one of 16 who died that day read: "10 years have passed. We miss you every day.
"All the times you were there for us, helped us know how special you really were."
Another read: "10 years ago today, you were taken from us in a tragic way.
"No matter how much we cry, the memory of that day will never die.
"We live our lives from day to day, but miss you more than words can say."
Deirdre Michie, CEO of Oil and Gas UK, said: "As we mark the 10th anniversary of the tragic Super Puma helicopter crash in the North Sea, our thoughts remain with the families, friends and colleagues who lost loved ones that day, and we will never forget them.
"This anniversary serves as a stark reminder that we can never be complacent about ensuring safe operations in our industry.
"I think it was a very well-attended, poignant occasion.
"Safe operations are always at the heart of everything we do, and that's why occasions like this are so important – to remind us, because when safety goes wrong, it goes tragically wrong."
Aberdeen's lord provost Barney Crockett said also laid down flowers at the ceremony.
Mr Crockett, who previously worked offshore himself, said: "This was a profoundly moving ceremony.
"I think a lot of people will be astonished to realise it's been 10 years, but the feelings of solidarity with the families of the victims of this tragedy are still enormously strong.
"It was incredibly moving to see such a high turn-out from the families, friends, colleagues of those who died, there must have been more than 100 people in attendance."
A private memorial ceremony was held in the Oil Chapel in Aberdeen, following the public event in Johnston Gardens to allow the families to pray in peace, and light a candle for their loved ones.
Recommended for you
X

'Obvious and blatant discrimination' emerging as offshore issue, Polish worker claims