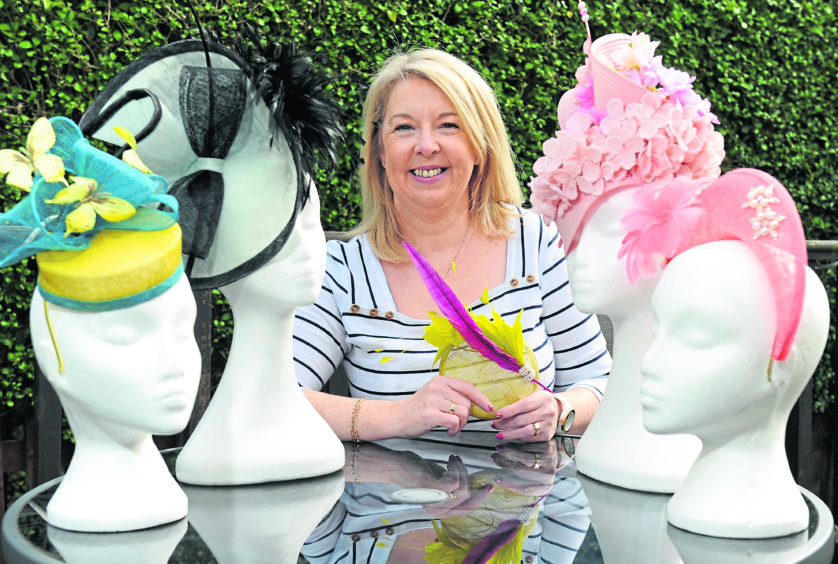 A north-east woman made redundant during the oil and gas downturn is building a new venture making women's fashion accessories.
Debbie Greig, got her inspiration for designing and selling fascinators – decorative headpieces usually smaller and lighter than hats – during a spell in Australia.
But it was only after she lost her job as a sales co-ordinator at Oil States Industries (UK) in Aberdeen, in July 2016, that she decided to make a business out of it.
She runs Totally Fascinating from a studio – she calls it a "posh shed" – which her husband, Iain, built for her in the garden of their home in Portlethen.
The enterprise is among more than 50 north and north-east businesses shortlisted for the ninth annual Scottish Independent Retail Awards (Sira), which reach their climax in Glasgow on Tuesday.
Ms Greig was only in the oil and gas industry for a relatively short spell, having spent much of her career working for law firms.
She started out making her fascinators for family and friends, barely covering the cost of materials, but word spread and soon many more people wanted them.
The mother-of-two now devotes four days a week to the business, while also working part-time as a legal secretary and cashier at DJP Solicitors in Aberdeen.
"I had previously lived in Australia for a few years and was amazed at the race day fashions worn by the ladies over there," she said, adding: "When we came home we attended Ladies Day at Perth racecourse and I made my first fascinator.
"I placed in the top 10 best-dressed women at Perth that year and an obsession was born."
Totally Fascinating is steadily growing its reputation through word-of-mouth, she said, adding: "I have been lucky enough to have been trusted to make pieces for mothers of brides and grooms, other wedding guests and ladies looking for something different for the races. I am completely self taught and love what I do."
In the Sira event, her business is one of nine finalists in the category for fashion and accessories retailer of the year.
She faces some north-east competition, however, as Fettercairn-based Encore Dress and Vintage Agency is also in the running.
Meanwhile, Aberdeeenshire business Geek Bothy – a multiple award-winning gifts shop in Kemnay – is hoping to add to its recent haul of honours at the Scottish Business Awards with the Sira regional bespoke retailer of the year accolade.
A Sira spokeswoman said: "Independent retailers are the very backbone of the Scottish economy.
"They make huge contributions to the country's revenue by creating employment opportunities and enhancing the communities they operate within."
The awards aim to "showcase those whose entrepreneurial spirit, commitment to customer satisfaction and ethos has helped them stand out amongst the rest and put them forward to get the recognition they deserve".
Recommended for you
X

Second huge block arrives for Aberdeen harbour expansion