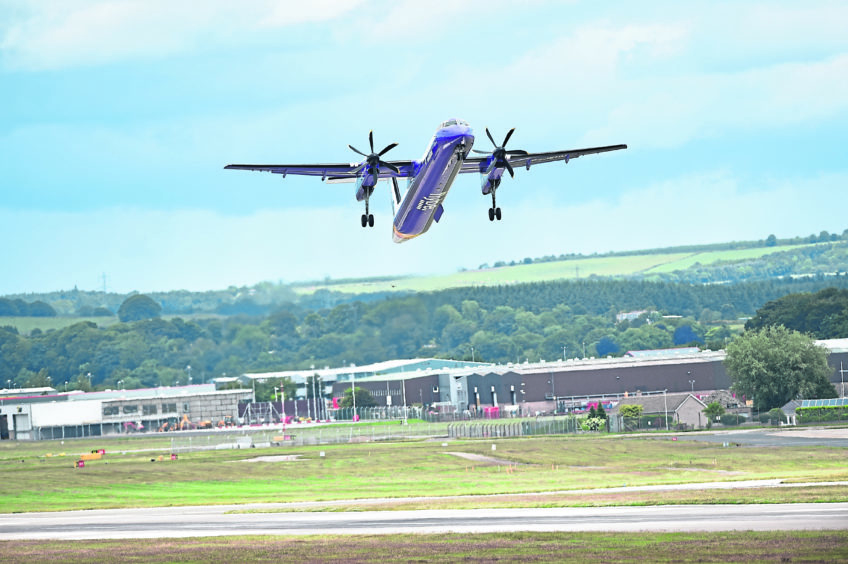 A north-east mum and her two small children had to travel for 10 hours to reach Belfast
after a struggling airline axed their flight at the 11th hour due to pilot shortage.
Kathleen Flynn, who owns O'Donoghue's pub in Aberdeen, had planned to fly from the Granite City to visit her parents in Northern Ireland, where her father is recovering after an operation.
The 50-minute flight across the Irish Sea was supposed to leave Aberdeen International Airport at 11.10am on Wednesday.
But operator Flybe, whose slogan is "Close To You", sent Ms Flynn a text message on Tuesday night telling her it had been cancelled.
After calling the firm and failing to secure any concrete assurances that subsequent flights would run, she decided to arrange alternative transport.
The 34-year-old instead spent 10 hours travelling from the family home in Peterhead on Wednesday, with five-year-old Cooper and three-year-old Amy.
She said: "I wanted to go down and give mum a hand after dad's operation and planned to fly from Belfast to Liverpool on Thursday after spending time with them.
"The text message on Tuesday night just said the flight had been cancelled. There was no information about alternative journeys or modes of transport.
"At first I thought it might have been a scam, but it was real and I then learned that modifying my flight would cost at least £125. But then Flybe said there was no guarantee that later flights would run to plan either so I had to just make a decision."
Ms Flynn drove to Glasgow on Wednesday and then got a ferry to Belfast. Including stops with her two children, the trip lasted from 8.30am to 6.30pm and she forked out £340 for the boat trip.
Ms Flynn added: "I just feel that the situation was very badly dealt with. There seemed to be little regard for people in my position who needed to make other arrangements.
"It made me feel so unimportant and I hope Flybe takes better care of customers if this happens again."
Flybe has apologised to all passengers affected by the cancellations on Wednesday, which struck across its UK network.
It said a combination of factors – including an abundance of pilots booking holidays at the same time – was to blame.
Further flights due in and out of Belfast today have been axed by the company. The firm did not respond to a request for information on whether further cancellations at Aberdeen should be expected.
Recommended for you
X

Updated: NHV wins Premier Oil contract for North Sea flights