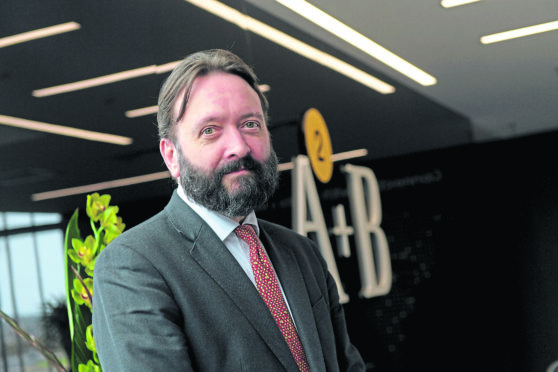 Aberdeen and the north-east of Scotland will be at the heart of the new Scottish Stock Exchange when it is launched later this year.
Tomas Carruthers, chief executive of Bourse Scot the firm leading the project, said businesses in the region will greatly benefit from the new way to raise capital due to its connections with the construction and renewables industries as well as its reputation for creating entrepreneurs.
Mr Carruthers was in Aberdeen to meet with accountants at Anderson, Anderson Brown who helped secure vital funding which will allow Project Heather to get off the ground.
He said it was his hope to reach out to other similar firms in the area who would be able to help support business owners raise capital and investors to cash in.
"Aberdeen is a vibrant area and I think it's already demonstrating it's attractiveness for startups," he said.
"I should say the stock exchange is not because we want Wood Group to move from the listing it already has on London. This is about encouraging new entrepreneurship and new investment so we think the stock exchange will be a catalyst for both.
"You don't really need a stock exchange if you don't need capital and the renewable sector is capital intensive and Scotland, and the north-east, also has leadership in it.
"We are keen to speak to businesses which are operating in the sector. I should say housing and construction is another example."
Last year Moray housebuilding firm Springfield Properties floated on the London Stock Exchange. However he said that if there had been the option to float in Scotland he would have given it serious consideration.
Mr Carruthers added: "What we are really interested to do is engage with firms like Anderson Anderson Brown who can advise companies on corporate finance and help them to raise money, investors, pension funds and also normal people who want to put their savings to work to capitalise Scottish industry and obviously entrepreneurs and businesses we can raise capital for."
HISTORY
When the second world war ended in 1945 there were 45 stock exchanges in the United Kingdom and in Scotland there were five stock exchanges.
There was one in Edinburgh and one in Glasgow both founded in 184. Later on exchanges were established in Dundee and Aberdeen and the fifth was established at Greenock.
All of those continued to trade until the Jenkins Report to the president of the board of trade recommended consolidation of the exchanges so Aberdeen and Edinburgh contributed their securities list to the Glasgow Stock Exchange which continued to operate its own floor and became known as the Scottish Stock Exchange.
It was then merged into what was christened the international stock exchange of great Britain and Northern Ireland by an act in 1973.
The international stock Exchange of Great Britain is what we now call the London Stock Exchange Group.
So for quite a long time there were exchanges in Scotland. As we know the economy of Aberdeen and the north-east of Scotland is still different from the economy of Edinburgh and Lothian and Glasgow and the west so you can see why there would have been different exchanges.
One of the reasons for consolidation is there would have been things like the Sterling crisis and we needed a national champion to operate European equity market and that has worked of course.
Another reason was telephones. If a lot of order flow was being executed on London rather than the local market then why do you need the market? Because you can just telephone the order to be executed by your man on the floor of the London Stock Exchange.
One of the things that we are taking advantage of is that technology has moved on since the 1965 and 1971 decisions and now because of computing and the cloud you can use a matching engine and trading platform and price dissemination system in the data centre that can be operationalised and can be an exchange platform for Scotland again in a very cost effective way.
Recommended for you
X

Life after oil: Former Shell engineer opens Aberdeen gym