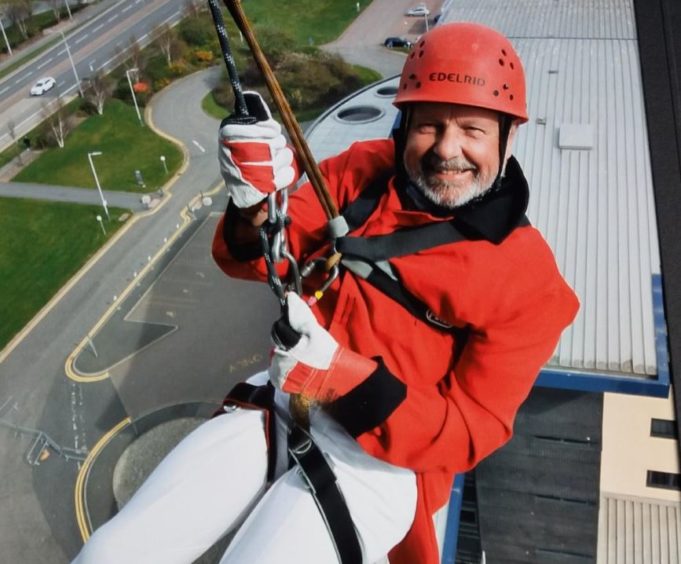 A number of oil and gas workers have taken on a 130ft drop to raise funds for a neurological care centre in Aberdeen.
Richard Gibson, director of consultancy Kirktyne, took part in the abseil from the AECC tower on Saturday along with representatives from energy services firm Wood.
They were raising money for the £3.9million extension of Sue Ryder's Dee View Court facility, the only neurological care home of its kind in Scotland.
Sue Ryder Dee View Court in Kincorth provides round-the-clock specialist care for 24 patients who suffer from a complex range of conditions, including MND, multiple sclerosis, Parkinsons and Huntington's disease.
The extension aims to nearly double the number of rooms, meaning more patients can be cared for.
Mr Gibson, who was sporting red jodhpurs, a bowler hat and hunting jacket, said he's never taken on such an extreme drop before.
It comes just months after a knee replacement in December, adding another element to the challenge.
He said: "I've never done anything that extreme before, going from a 40metre tower.
"The reason I did the abseil rather than the Balmoral run or the firewalk is I reckoned I could do the firewalk or the Balmoral run but I wasn't sure about the abseil so I thought 'that's got to be the challenge'.
"I don't think people would have sponsored me to do something I knew I could do."
Wood workers joined him in the abseil – the firm is among a number of firms which have supported the appeal, pledging £100,000 to the campaign.
https://twitter.com/SueRyderScot/status/1119541357473861632
Mr Gibson, who has also worked for firms including Petrofac and Technip, is on the appeal board for the 20-bedroom extension plan and has personally raised nearly £3,000 through his abseil.
He's urging others to come forward and donate what they can.
"I understand there are dozens and dozens of worthy local causes but this one is actually happening at the moment," he said.
"It is being built, we need the money to put the roof on, so dig deep for the next short while and help us complete the extension."
Visit Sue Ryder's website for more information on the appeal.