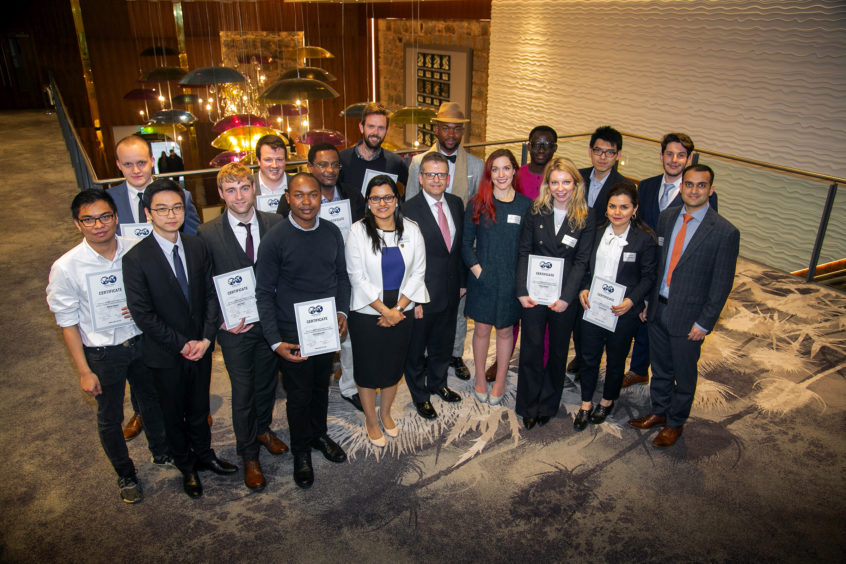 The Society of Petroleum Engineers (SPE) Aberdeen Section has awarded its biggest ever total of bursaries – £29, 500 – to the winning students in its 2019 student bursaries programme.
This year over 90 students applied for a share of the bursary pot with 26 winners eventually selected to receive grants ranging from £500 to £3000. The successful students are currently studying oil and gas related courses ranging from undergraduate to PhD level, at the University of Aberdeen, Robert Gordon University, University of Dundee, Heriot-Watt University and the University of Strathclyde.
The bursary programme reflects SPE Aberdeen's on-going commitment to the future of the North Sea industry and has been an integral part of its ethos for over 40 years. The past 10 years alone have seen almost £150,000 of financial support awarded.
A judging panel of 11 assessed the applications with the highest scoring applications invited to give a presentation to the judges. Each applicant was judged on the quality of their academic work, their intent to embark upon a career in the oil and gas industry and their active involvement with SPE.
The students were presented with their awards by SPE Aberdeen Section Vice Chair, Kenny McAllister, at a recent ceremony at the Sandman Hotel, Aberdeen.
Ian Phillips, Chairman of SPE Aberdeen said: "We are delighted to be in a position this year to plough even more resource back into the future of the industry. SPE Aberdeen runs a programme of annual industry events, all of which are robustly supported by individuals and companies active within sector.
"The success of these events allows us to continue to fund the bursary scheme, which we see as critical to the encouragement of our industry's next generation and future leaders. The calibre of applications received continues to impress the judging panel and we extend our congratulations to the successful students."
The five students who were awarded the £3,000 bursaries were:
Theresia Betty Sumarno – University of Dundee
Xiang Shi – Heriot-Watt University
Victoria Spooner – Heriot-Watt University
Theodor Tufa – University of Aberdeen
Yatin Suri – Robert Gordon University
The eight students who were awarded the £1,000 bursaries were:
Farhan, Khan – University of Aberdeen
Viktors Stepovojs – University of Aberdeen
Ruissein Mahon – Robert Gordon University
Adam Cawood – University of Aberdeen
Ewan Campbell – University of Aberdeen
Hidayat Miftah – University of Aberdeen
Gillian Douglas – Heriot-Watt University
Nko Victor Ugochukwu – University of Dundee
The 13 students who were awarded the £500 bursaries were:
Yakubu Balogun – Robert Gordon University
Sam Head – Heriot-Watt University
Emmanuel Eke – Robert Gordon University
Alfredo Freites – Heriot-Watt University
Aaron Tung – University of Aberdeen
Joseph Sherratt – University of Aberdeen
Kennedy Omoigui – Robert Gordon University
Serveh Naderi – Heriot-Watt University
Cameron Hogan – University of Strathclyde
Christopher Ibeh – University of Strathclyde
Gang Wang – Heriot-Watt University
Odion Udebhulu – Robert Gordon University
Suardi Nur – University of Dundee
Recommended for you

Northern Star Business Awards: All the winners from this year's ceremony