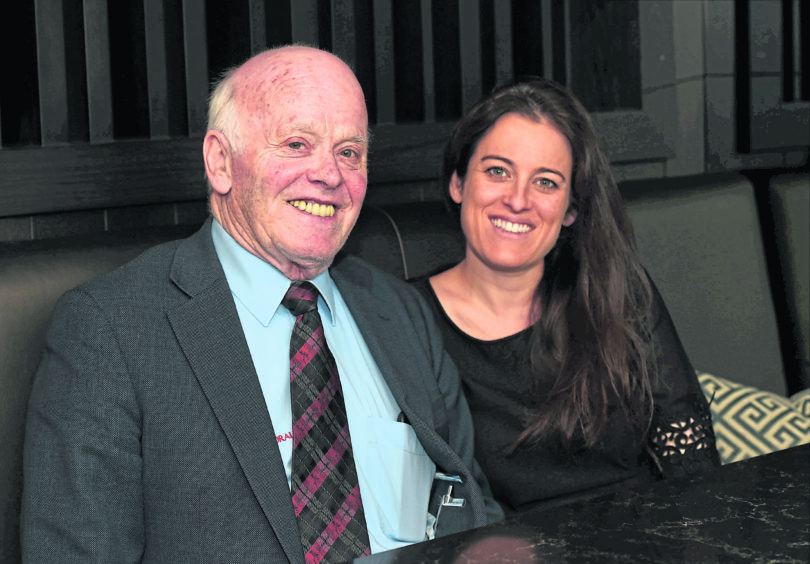 Jimmy Milne has never forgotten the agony of losing first wife Jill to cancer when his daughters were aged just eight and three.
As he walked into the oncology ward in Aberdeen, he saw so many people of all ages struggling with various forms of the disease.
It lit a flame in him which led to his company, Balmoral Group, becoming key sponsor of Friends of Anchor, the charity set up in 1997 to support the Anchor Unit.
On his subsequent rounds of the facility, he admitted he was in awe of the way so many of the patients handled their circumstances. Despite their travails there was resilience and unwavering strength from patients throughout the ward.
That proved the catalyst for the launch of Courage on the Catwalk in 2013; a unique initiative by the charity to focus on the fortitude of those facing a cancer diagnosis – past and present. The concept was simplicity itself, the execution less so.
Mr Milne, 79, got behind daughter Sarah-Jane Hogg, who heads the FoA fundraising team, and together the duo shone the spotlight on women with cancer, allowing them an escape from the relentless grind of chemotherapy and treatments they faced in hospital.
Brave – a male version of the catwalk event at the Beach Ballroom – was introduced in 2017 and has also been an outstanding venture.
Both shows have thus far raised more than £850,000 for FoA – the £1 million target is in sight – and they have forged friendships and camaraderie between hundreds of models, stylists, family members and those who treat and care for them at the Anchor Unit or wider Aberdeen Royal Infirmary.
Mr Milne spoke passionately about why he believes the shows – which will be staged this year at the Art Deco ballroom tomorrow and on Saturday and Sunday – are worth backing.
He said: "I lost my mum to cancer, my brother to cancer, my first wife to cancer and there can hardly be a family in Scotland that has not been affected by it.
"Whenever I went in to hospital, I thought to myself 'What can I do?' and 'How can I try to improve things for some of these people?'I felt I had to do something to help.
"When the charity was born I knew I wanted to ensure all its running costs would be covered, so any money raised could make a real difference to those who needed it most.
"The whole principle of Courage sprung from that and it has been incredibly successful.
"I have been blessed in so many ways, but others have been less fortunate. I have a duty to do what I can, and Sarah and her fundraising team have been the massive driving force in bringing Courage and Brave to fruition.
"There are so many who work tirelessly behind the scenes and we resolved that every penny we raised would go to Friends of Anchor.
"Some charities don't do that; they maybe only give 60p or 70p of every £1 they raise to the actual charity. We give £1."
Mr Milne added: "There are now eight people employed in the wellbeing team who offer complementary services and support to the staff and patients in the Anchor Unit, funded by FoA.
"The fundraising team behind Courage and Brave is funded by Balmoral and I have never been more proud of becoming involved with any project in my life.
"I'm always there at all the shows and to see the smiles, the families coming together, the tears – of joy, not despair or frustration – can't help but raise your spirits.
"When it started out in 2013 the event was pretty basic. It was a catwalk, just a catwalk and not a lot else.
"Since then, it has developed. It has become bigger and bigger, with a full production team and a level of volunteer support that has grown tenfold.
"But the reason we do it hasn't changed. We know cancer has negative impacts on people's lives, but so many of these people who take part in the shows are heroes.
"I don't use that term lightly and I have the same opinion of those doctors and nurses who go the extra mile all the time to make their patients' lives more bearable.
"If we can do something to help rebuild lost confidence and self-belief by giving the models a chance to be in the spotlight, that has to be worthwhile."
Mr Milne recognises there are no guarantees of happy endings with cancer. Some of the early models have died, while some who originally came to watch are now themselves battling the illness, and he is hard-headed enough not to sugar-coat the pill.
Nor does he use the term "fashion show" for Courage and Brave. Instead, these are events designed to provide a platform and a release for people whose lives have been altered and their families impacted by the disease.
Mr Milne said: "The medical staff see the patients at their lowest ebb, but when they see them on the catwalk, it's a reminder these are people with an unquenchable spirit.
"We watch the men and women forming closer bonds every year. They are all in this together and it's incredibly important they aren't just defined by their cancer.
"I've been in business for 60 years and experienced both good and bad things. But these don't compare to the emotions of working on these events for Friends of Anchor.
"Even if people are terminally ill, even if they know they will not see their children grow up, they can leave memories behind of when they took to the stage and the photos and videos are there for those left behind.
"One of our model alumni once said to me 'You will never walk into a room where there is so much love' as with Courage and Brave. Anything I can possibly do to maintain that will be done."
That wasn't a platitude. Mr Milne doesn't deal in them. It was a pledge.
Recommended for you

Forties at 50: Golden age of the oil boom in the north-east