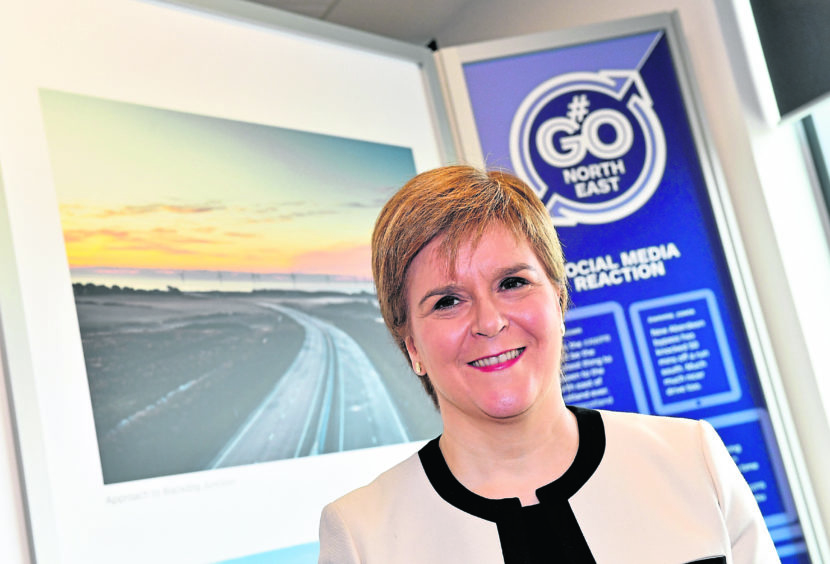 Traffic going through Aberdeen has halved since the opening of the AWPR three months ago.
Around 50% of drivers who would have gone through the city centre have diverted on to the new bypass since its completion in February, government data shows.
The 36-mile bypass goes from Stonehaven to Ellon, around the western edge of Aberdeen.
Transport Scotland also found journey times from the south of the city to Dyce have halved – even during rush hour.
Yesterday, First Minister Nicola Sturgeon hailed the road and said it had brought "huge benefits" to the region already.
And industry leaders said now is the time to continue on with other major infrastructure projects in the region, to "maintain momentum" to encourage future growth.
According to Transport Scotland's analysis, the morning commute from Stonehaven to Dyce took an average of 47 minutes before the new road opened, with the same drive in the evening taking 42 minutes.
Both journeys now take 18 minutes on the AWPR.
The figures were taken from "early snapshot data" which should only be viewed as indicative as formal monitoring takes more time.
Over the next 30 years, the £745 million bypass is expected to be worth £6 billion in the north-east economy and create around 14,000 jobs.
The lessening congestion could also allow for a more pedestrian-friendly city centre, as well as improving air quality.
Speaking in Aberdeen yesterday, First Minister Nicola Sturgeon said: "The AWPR has brought huge benefits to the north-east with these initial findings showing both journey times and congestion have improved over the last few months.
"Vehicles that were previously sitting in nose-to-tail traffic and causing pollution have now shifted, leading to lower emissions in the city.
"This has the potential to improve air quality for around 75,000 homes and will improve the environment for pedestrians and cyclists in Aberdeen city."
But business leaders including the heads of Opportunity North East (One) and Aberdeen and Grampian Chamber of Commerce have already begun pushing for other major infrastructure projects.
Chief executive of One, Jennifer Craw, said: "It is important we maintain the momentum in infrastructure investment to support international growth in our key sectors with enhanced harbour and port facilities, air connections, and road and rail links."
The chamber's chief executive, Russell Borthwick, added: "Although we celebrate the fact we have the AWPR, it took far too long to deliver it.
"What we need to force home as a region is the need for pace if we are to continue to punch above our weight in our contribution to the national economy."
Recommended for you

BP and Aberdeen City Council hit planning milestone for Hydrogen Hub