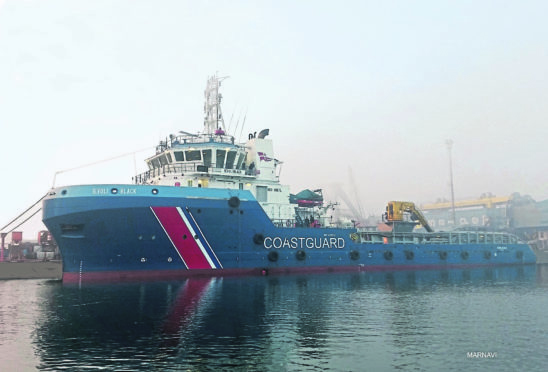 A row has erupted after it emerged a round consultation meetings on the future of emergency tugs in UK waters will not visit Scottish coastal areas.
Politicians hit out after the Maritime and Coastguard Agency (MCA) announced it would hold its only Scottish meeting regarding the future of emergency towing vessels (ETVs) – in Edinburgh.
For campaigners seeking to secure services in the north – including reinstating an ETV to the Western Isles – it means a two-night stay in the capital and a potential loss of earnings to have their views heard.
The MCA has recently announced a study to assess the availability and adequacy of emergency tow arrangements.
In 2012 a Stornoway-based ETV was scrapped by the UK Government, leaving Scotland to be covered by just one based in Orkney.
Saying Edinburgh had been identified as the "most suitable focal point" for its meeting, the MCA announced yesterday it was also planning to host meetings in Liverpool,  London and Bristol, before coming to the capital on June 27.
An MCA spokeswoman said: "The venues have been chosen as they provide the most suitable focal points when covering the whole of the UK."
Western Isles MSP Alasdair Allan said: "This review is a welcome opportunity to reverse the dangerous cuts to emergency towing vessels.
"But it is very disappointing to see just a single stakeholder meeting in Scotland – held in Edinburgh, some distance from most of our coastal, island and fishing communities."
Calling the consultation a  "box-ticking exercise", Western Isles MP Angus Brendan
MacNeil added: "If they think that Edinburgh is a good enough location for a coastal consultation for the whole of Scotland, they are wasting their money."
And Orkney and Shetland MP Alistair Carmichael said: "I wonder what expertise the Maritime and Coastguard Agency feel they will hear in London, Liverpool, Bristol and Edinburgh that they will not hear in Lerwick, Kirkwall, Stornoway or Mallaig."
Recommended for you
X

Aberdeen Harbour welcomes longest ever vessel to visit in 900-year history