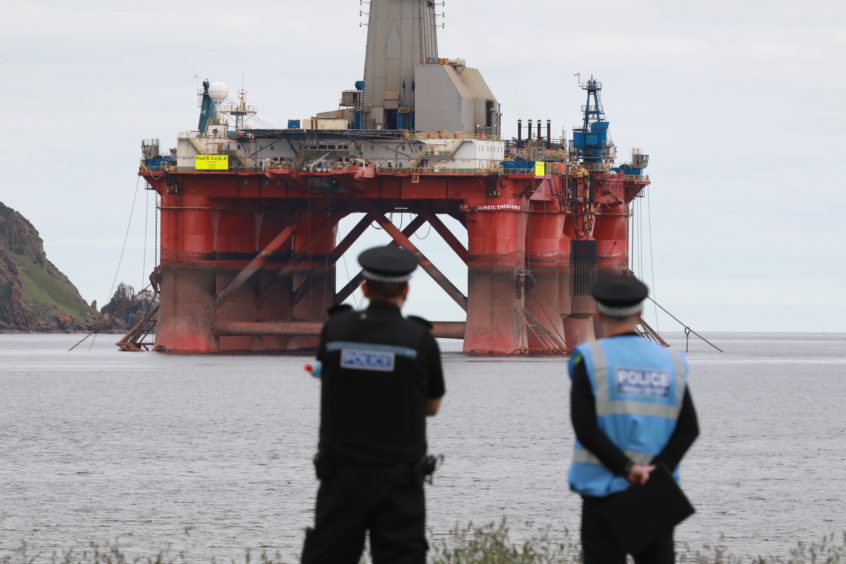 Two environmentalists have appeared in court in connection with a protest that has brought work on an oil rig to a standstill.
Greenpeace campaigners have been occupying a BP-contracted oil rig in the Cromarty Firth since Sunday.
On Tuesday, the original protesters were replaced by two more who boarded the rig with fresh supplies.
Now two people have appeared at Tain Sheriff Court in connection with the stand-off.
Christopher Till and Paula Radley denied causing a breach of the peace on the rig when they appeared at Tain Sheriff Court.
It is alleged they, while acting with others, conducted themselves in a disorderly manner, boarded the rig and refused to leave – tethering themselves to the platform and placing themselves in danger while preventing others from going about their business.
The alleged offence happened on June 9, 10 and 11.
The case against Till, of Browns Road, London, and Radley, of Bull Stag Green, Hartfield, will call again next month.
A warrant has been issued for third campaigner, Paul Morozzo, of Moorfield, Hebdon Bridge.
A trial date for August was fixed.
A spokesman for Greenpeace said: "We can confirm two members of support crew have appeared in court.
"We are providing ongoing round the clock legal and welfare support.
"The two activists on the rig remain in place and the occupation continues unimpeded."
Recommended for you

Sweet 16: The key North Sea projects due to come onstream before 2027