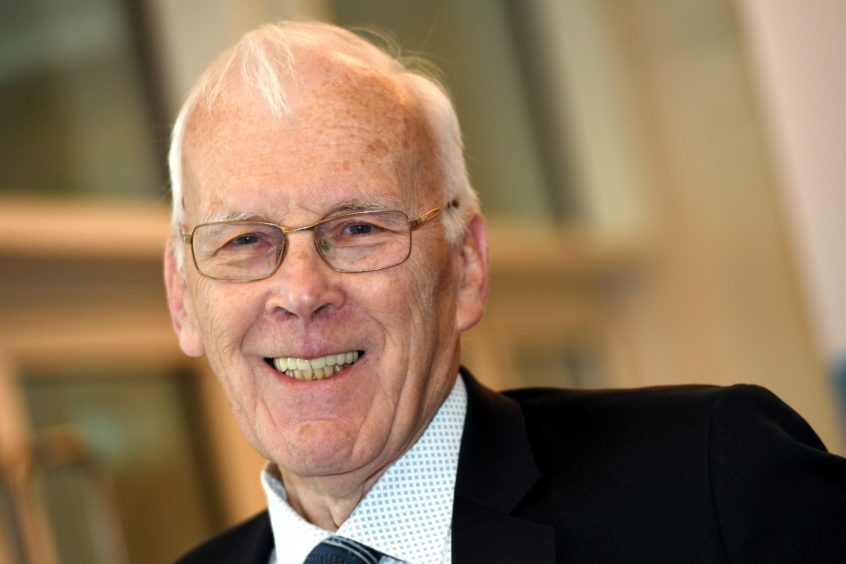 One of the north-east's most renowned business figures has gained international recognition for his philanthropy.
But Sir Ian Wood KT GBE, who has been announced as one of the recipients of the Carnegie Medal for Philanthropy, said the accolade belonged not just to him, but every member of his "great" teams working in both Scotland and Africa.
The medals are awarded once every two years to a handful of global individuals whom the Carnegie family of institutions believes are creating a world of positive change.
They honour the memory of Dunfermline-born Andrew Carnegie, whose charitable instincts have stamped him out as one of the greatest philanthropists in history.
Sir Ian, chairman of The Wood Foundation which was established in 2007, is the only European philanthropist on this year's list.
He said: "I am very proud to be one of this year's recipients of the Carnegie Medal for Philanthropy. I feel a particular pride in representing Scotland on this, the 100th anniversary of the passing of our greatest national philanthropist.
"But this award is not just about me, but a testament to the terrific work being done by the Wood Foundation members, who are doing a super job in so many different areas, whether in Scotland or across different African countries.
"My own philanthropy has undoubtedly been at least partly inspired by Andrew Carnegie, an industrialist turned philanthropist who gave people huge opportunities locally and globally.
"I hope he would be pleased with a fellow Scot, albeit one from a different generation, who has achieved a tiny fraction of his accomplishments in increasing access, reducing inequity and giving people the tools and platforms to help themselves."
The Wood Foundation's work in the UK and Africa includes managing a diverse range of interventions and investments, which promote sustainability, systemic change and transformational impact on the basis of helping people to help themselves.
In Rwanda and Tanzania, the foundation is transforming regions through the tea industry. As well as investing significant funds and expertise, it is also training 5,000 smallholder farmers each year to create a sustainable industry for generations to come.
More than 70,000 smallholder farmers now work directly with the foundation on up to 20,000 hectares of land, creating additional employment for more than 30,000 people.
In Scotland, the flagship programme of its 'developing young people in Scotland' portfolio is the Youth and Philanthropy Initiative.  The active citizenship programme has engaged more than 175,000 young people introducing them to philanthropy through the responsibility of awarding nearly £4m to charities.
Sir Ian will receive the medal in New York in October.
Recommended for you

North Sea stalwarts to speak at Courier – Energy Voice event