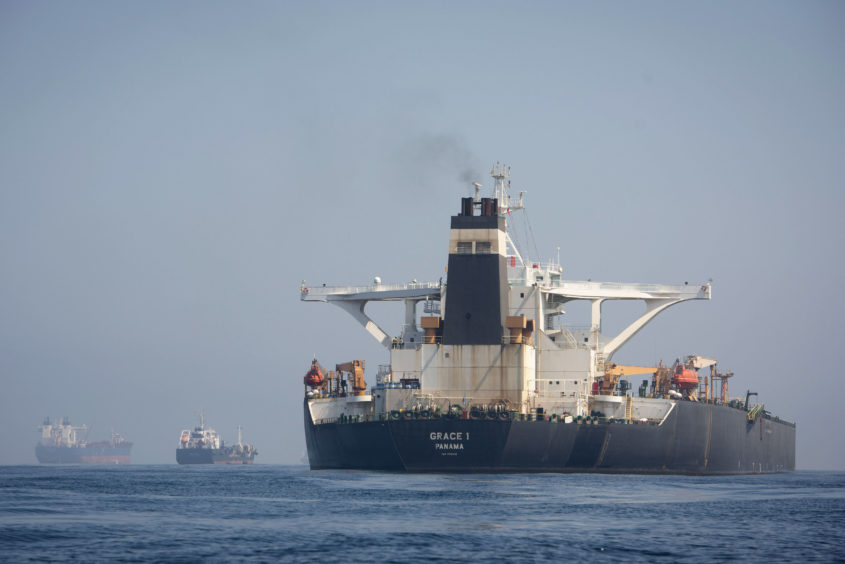 The Iranian supertanker detained last month on suspicion of hauling oil to Syria in violation of European sanctions set sail from Gibraltar waters after being released by the British territory and is now signaling Greece as its next destination.
The ship, renamed Adrian Darya, changed its intended destination on Monday to the Greek port of Kalamata, from its previous indication of the Mediterranean Sea, according to vessel-tracking data compiled by Bloomberg.
Gibraltar rejected an attempt by the U.S. to block the ship's release on Sunday. The territory's Supreme Court determined the Trump administration, which issued a warrant to seize the tanker, hadn't filed the appropriate action to prevent that from happening.
It remains to be seen what will happen to the vessel now. The U.S. said it was gravely disappointedwith Britain after Gibraltar's release of the tanker, and it warned that ports, banks and anyone else who does business with the vessel or its crew might be subject to sanctions, according to two administration officials.
The waters off Kalamata could be a possible location for ship-to-ship cargo transfers, according to two vessel brokers without specific information about the tanker's plans. Tanker crews enter destinations into ship logs that get picked up by vessel-tracking satellites. The destinations can be altered multiple times on the same journey.
British forces seized the vessel on July 4 on suspicion that it was hauling Iranian crude to Syria. Iran has maintained that the detention was unlawful. The incident is one of several in recent months that have strained relations between Iran and the West, following the U.S. reinstatement of sanctions on the Persian Gulf state last year.
A new crew for the ship had been scheduled to arrive in Gibraltar on Sunday, Richard de la Rosa, managing director of the vessel's shipping agent Astralship, said. Iran previously said the ship would head to a port in the Mediterranean.
The vessel's status was "under way using engine" with speed of 6.7 knots as of 11:59 a.m. on Monday in Singapore, according to ship-tracking data. It has an estimated time of arrival at Kalamata of Aug. 25.
Recommended for you

23 defects, eight different names: What a dark fleet tanker looks like