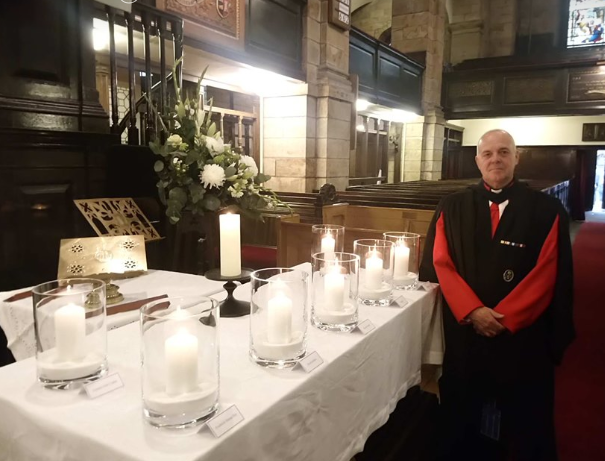 Scores of people gathered at a special ceremony on Saturday to commemorate all those in the UK oil and gas industry who lost their lives offshore.
The industry's annual remembrance service was held at the Kirk of St Nicholas on Union Street, Aberdeen.
About 150 people attended the 45-minute ceremony, organised by the UK Oil and Gas Chaplaincy.
The Act of Remembrance included a "roll call" of those who died offshore in the past 12 months followed by a piper's lament and a minute's silence.
A candle representing all who have died since the industry began, whether through tragic accident or natural causes, was lit by Dick Leitch, a survivor of the Dan Air plane crash off Shetland 40 years ago.
Seventeen people were killed when the aircraft failed to take off at Sumburgh Airport on July 31, 1979.
The plane was chartered to take 44 oil workers back home to Aberdeen but was prevented from becoming airborne by a mechanical problem.
Candles were also lit for each of those who have died in the past year.
Families bereaved in the last 12 months were able to view their loved one's details in the Book of Remembrance.
The book, housed in the Kirk of St Nicholas' Oil Chapel, was established during the 25th anniversary year of the Piper Alpha disaster of 1988.
Reverend Gordon Craig, oil and gas chaplain, said: "People have a deep human need to remember but society does not always give them that opportunity and frowns on outward signs of sorrow and grief.
"This service gives people a chance to remember loved ones who they've lost. It also shows that the city, colleagues and the industry will not forget them or their loss.
"People come here every year to remember and I hope that brings comfort."
The remembrance service takes place on the first Saturday of November each year and is open to all.
Recommended for you

Gallery: Memorial service held in Aberdeen to mark anniversary of Piper Alpha