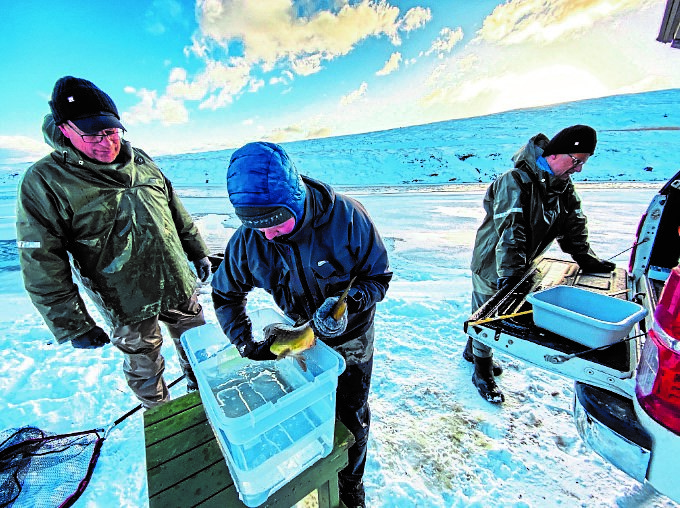 The billionaire founder, chairman and majority owner of industrial giant Ineos has stepped up his efforts to protect and grow populations of Atlantic salmon.
Jim Ratcliffe, a keen angler and ranked third on the last Sunday Times Rich List of Britain's wealthiest people, with a personal fortune estimated at around £18 billion, launched a major research programme in support of his salmon conservation work last month.
The project has now moved up a gear with the planting of eggs in areas where, it is hoped, they will have more chance of survival.
Researchers on the programme are also investigating the reasons behind falling salmon numbers.
Although their work is focused on Iceland, it could have a major bearing on efforts to boost numbers of wild salmon in Scottish rivers – and in turn angling tourism – after years of decline.
Only 3-5% of salmon hatched in UK rivers return to breed, compared with 25% two decades ago.
Mr Ratcliffe's funding of the Strengur project in Iceland, with all profits being ploughed back into salmon conservation, allowed egg planting to take place on the River Selma from late October until early November.
About a million eggs from native fish are to be planted every year in the higher parts of rivers that salmon have been unable to reach in the past.
The programme is expected to open up new habitat and food resources to improve growth and survival rates in critical early stages of the life cycle.
Strengur Angling Club chief executive Gisli Asgeirsson said project teams worked in temperatures of minus 10 degrees centigrade to "start the programme that will build to seed around one million eggs each year".
He added: "This work is so important to help extend the spawning grounds of North Atlantic salmon in north-east Iceland, which is part of our wider conservation programme across the region.
"Working closely with the farmers and the local communities we can build something sustainable and environmentally sound that is a benefit to the local ecology and community, as well as maintaining this area as a world-class fishing destination."
Eggs are also being planted in the Kverka, Hvammsa, Miofjaroara and Vesturdalsa rivers.
In addition, genetic and scale samples are being gathered from the parent fish before their release.
The same areas will be revisited next summer after the eggs have hatched and the results measured.
Extending the spawning areas and nursery grounds through the construction of new salmon ladders is also progressing as a key part of long-term plans to help Iceland's salmon thrive.
The Miofjaroara ladder was completed and opened last year, with salmon having since colonised the newly-extended upper parts of the river.
London-based Ineos is the chemical giant behind the huge petrochemicals complex and oil refinery at Grangemouth, as well as North Sea subsidiary Ineos Oil and Gas UK.
Recommended for you

INEOS and SINOPEC ink three deals worth $7bn