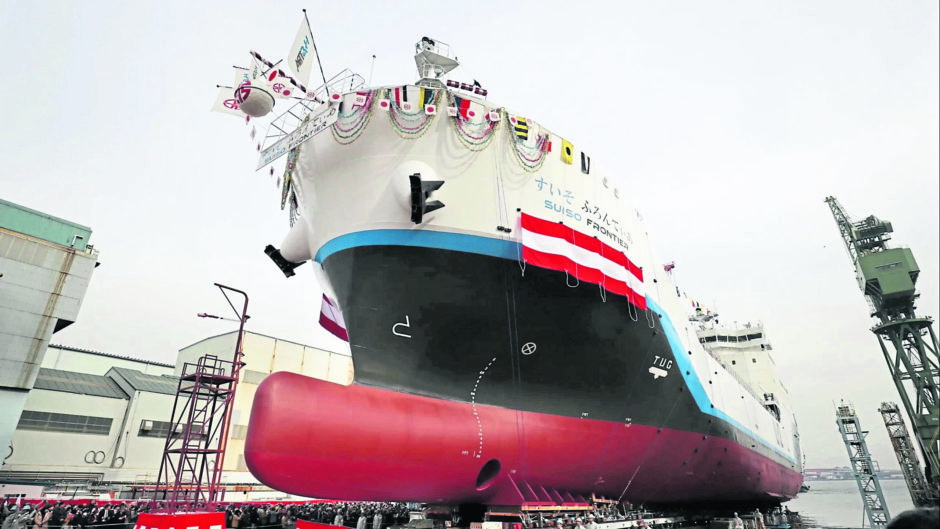 The world's first ship built to carry liquefied hydrogen will set sail late this year or early next.
The Suiso Frontier's hull was launched by Kawasaki at its Kobe Works in Japan last December and is now in the early stages of fitting out. This will be a complex process, though delivery and installation of the cryogenic liquefied hydrogen storage tank system is not scheduled until the autumn.
Hydrogen is highly effective as an energy carrier and is seen as an important part of the future clean energy mix.
But it is difficult to store safely whether in gaseous form or liquefied. However, there is a 61-year track record of transporting liquefied natural gas (LNG) by sea.
This is a valuable source of lessons learned regarding long-distance transportation of hard-to-handle, super-flammable cargoes by sea.
The first LNG cargo was shipped from the US to the UK aboard the Methane Pioneer.
Kawasaki delivered Japan's first LNG carrier in 1981, since when Japan and Korea have come to dominate this important and growing market.
In November 2018, South Korean ship builders locked in three years' worth of large LNG carrier contracts – more than 50 orders – with a value of $9 billion. South Korean builders captured 78% of LNG-related ship building contracts in 2018, with 14% going to Japanese builders and 8% going to Chinese builders.
Since its first venture into building LNG carriers, Kawasaki has become a world leader in the development of the cryogenic technologies required for maritime, road and rail transportation.
It is a rare example of a company able to bring shipbuilding prowess and such technologies together to the market.
The core of the Suiso Frontier is a pressurised cryogenic cargo containment system developed for LH2 (liquefied hydrogen) carriers.
Kawasaki says the system is based on its existing LNG carrier building track record and of LH2 land transportation and storage.
Suiso Frontier's build is governed by interim safety requirements approved by the International Maritime Organisation (IMO), bearing in mind that this vessel is the first of its kind.
The diesel-electric ship will have a storage capacity of about 1,250 cubic metres, less than 1% of the size of a typical current generation LNG ship.
LH2 has to be kept at a temperature of minus 253 degress Celsius, which is 91C below that of LNG and even colder than liquid nitrogen.
LNG is today routinely liquefied by refrigeration to minus 162C and this process is carried out ashore, before the cargo is loaded onto the ship.
Kawasaki plans to install a 1,250m3 vacuum-insulated, double-shell-structure liquefied hydrogen storage tank, being manufactured at Harima Works in Japan.
Hydrogen is gaining favour as a key next-generation energy source capable of combating global warming.
In 2016 and with the goal of making hydrogen just as common a fuel source as petroleum and natural gas, Kawasaki teamed up with the Iwatani, Shell Japan and Electric Power Development Co (J-Power) to form the CO2-free Hydrogen Energy Supply-chain Technology Research Association (HySTRA).
This consortium has been pursuing technological development aimed at building a hydrogen-based energy supply chain of which Suiso Frontier is perhaps the most critical element.
The hope is that the supply chain can be fully commercialised by 2030.
However, liquefaction technology is costly and gobbles some 30% of the hydrogen's own energy content.
Recommended for you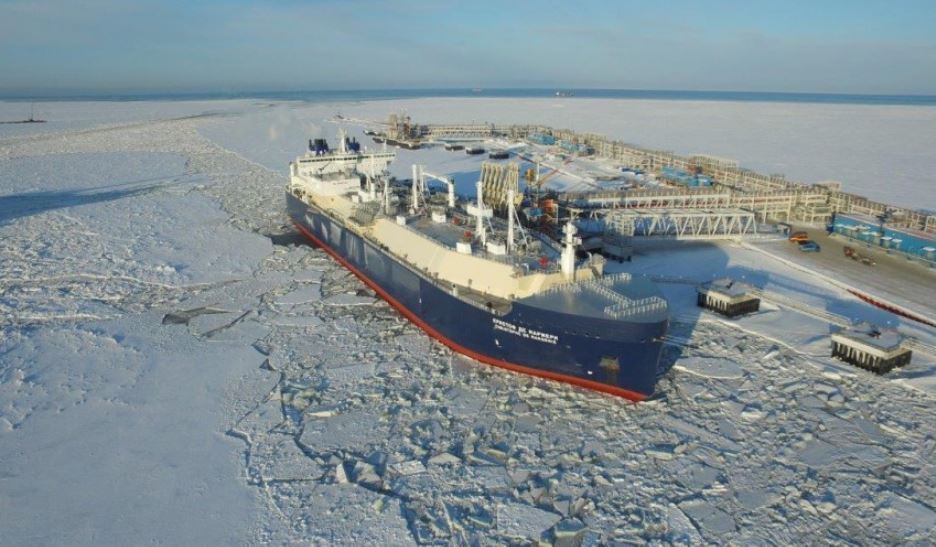 Russia to export more LNG to China