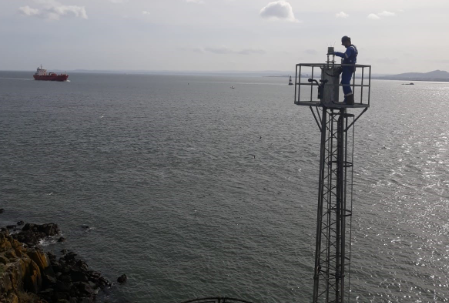 A Fife-based marine contractor has secured a seven-year maintenance contract with major port operator, Forth Ports.
Based in Burntisland, Briggs Marine Contractors will provide maintenance services on navigation aids, including buoys and lighthouses, on the Forth and Tay rivers in a deal worth around £1 million over the lifetime of the agreement.
The firm says that key to the contract success in the tendering process involved introducing the use of telemetry lanterns and condition-based maintenance which aims to maximise the operational lifespan of existing lanterns.
The contract will see Briggs Marine Contractors undertake the maintenance of 81 floating aids to navigation, two mooring buoys and 35 Fixed Aids to Navigation.
The work will involve recovering a substantial number of buoys from the water on a yearly basis, and all mooring calibrated.
Worn material on the buoys will be renewed and the buoys power washed to remove marine growth and lights and telemetry checked.
A regular inspection and maintenance programme will also be carried out on lighthouses and fixed Aids to Navigation.
Malcolm Duncan, General Manager for Briggs Marine's Commercial AtoN department, said: "We are pleased to have secured this contract and to continue our work for Forth Ports.
"We have a very good relationship with Forth Ports Limited and look forward to strengthening this even further over the coming years."
The work will principally be carried out using the company's 41 metre mooring vessel Cameron, which was built in 1991.
Briggs Marine was founded in the 1970s, providing workboats and services on the Firth of Forth.
The firm, which remains in family ownership, has steadily increased its range of services to include vessel charter and management, fuel and logistics, salvage and submarine cable installation, maintenance and repair.
Its environmental team formed part of the clean-up operation of the Exxon Valdez incident which saw 260,000 barrels of crude oil spill into the sea off Alaska in 1989.
The company is now involved in the renewable energy market and has framework agreements in place with a number of offshore wind developers.
The most recent accounts lodged at Companies House show that Briggs Marine Contractors saw a 33% increase in turnover, from £52.5 million in 2018, to £69.8m for the year ending March 31, 2019.
Pre-tax profits for the period more than doubled from £1.4m, to £3.2m, while salaries and associated costs rose from £24.5m to £28.2m.
The ultimate parent company for the Briggs Marine Contractors is Briggs Commercial Limited.
Recommended for you

Port of Cromarty Firth £150m expansion to create 'thousands of jobs'