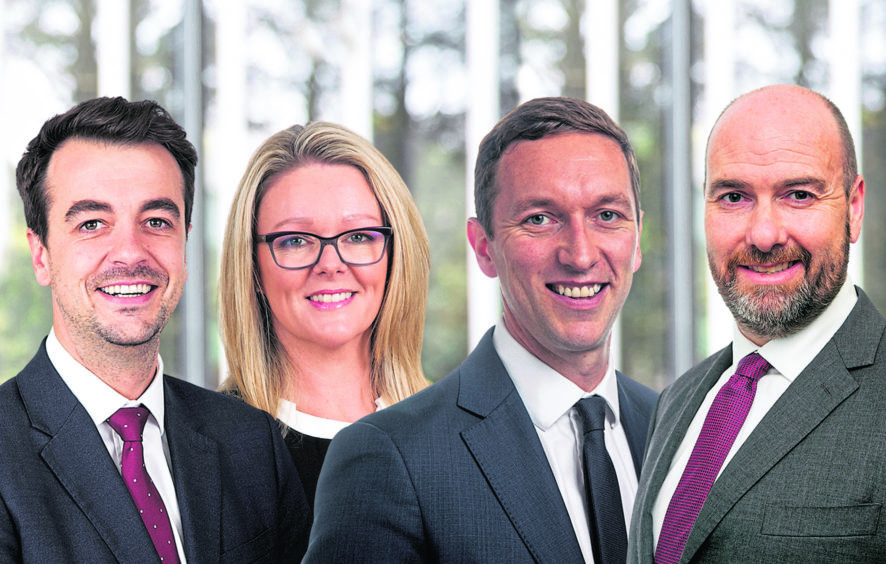 Anderson Anderson & Brown (AAB) Wealth has announced the appointment of chartered financial planners Vikki Venerus, Andrew Dines and Ian Campbell as directors and shareholders.
The financial advice firm is part of Aberdeen-based financial services group AAB, whose chief executive, Graeme Allan, said the internal promotions were "thoroughly deserved and recognise the skill, expertise and contributions of each individual".
Mr Allan added: "They bring valuable experience, both as board members and as owners of the business."
Ms Venerus has been with AAB Wealth since it was founded more than nine years ago and as senior operations manager has had responsibility for the firm's paraplanners and client service support team.
Mr Dines – a former pupil of Oldmachar Academy – has been with the business since August 2013, having previously worked for Lloyds Banking Group, while Mr Campbell, a business studies graduate of Robert Gordon University, joined the firm in August 2016 after roles at Royal Bank of Scotland, Lloyds TSB, Lloyds Bank and Bank of Scotland.
AAB Wealth was created in 2011, when AAB, based at Prime Four business park at Kingswells, added wealth management to its services. It now has offices in Aberdeen, Edinburgh and London.
As of last November, AAB Wealth had assets under advice approaching £350 million.
Recommended for you

M&A to provide growth platform for firms in 2021