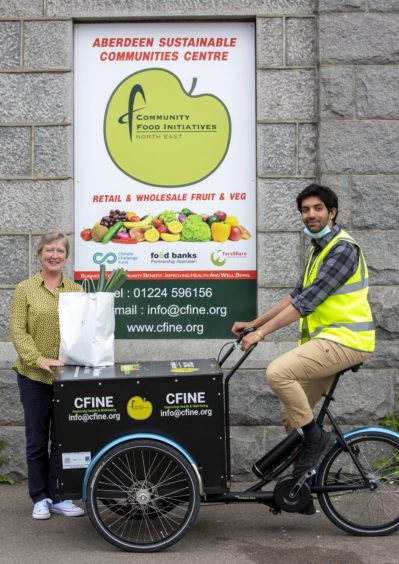 Subsea 7 has donated a total of £15,000 to charities across the north east of Scotland, in support of families and individuals struggling this winter.
Staff and management at Subsea 7 asked for funds normally set aside for a range of staff Christmas and recognition activities in the office, be given instead to community initiatives in January.
Aberdeenshire North Food Bank and Community Food Initiatives North East (CFINE) have each received £5,000 and £3,000 has been donated to Aberdeen Cyrenians. A further £2,000 has been distributed in January to a group of smaller organisations, bringing the total for Subsea 7's 2020 Aberdeen year-end charity donations to £15,000.
Subsea 7 Senior Vice President, Steve Wisely, said: "Subsea 7 has always been committed to supporting the communities it operates in, through actively seeking volunteering opportunities and finding ways to improve the local community's health and wellbeing.
"I am really pleased that our colleagues have transformed the disappointment they felt from not being able to work and celebrate together over Christmas, and delighted to have donated funds to help people in desperate need during the pandemic.
"The ongoing impact of COVID-19 has made it increasingly challenging for people in need to get access to nutritious food and mental health support. We hope that our donations will help these fantastic organisations to continue their range of vital services, that aim to ease the wellbeing challenges many local people are facing right now."
Debbie Rennie, Aberdeenshire North Foodbank Manager, said: "We are extremely grateful for the support from Subsea 7. It really helps us to continue to do our work in providing emergency food to those experiencing food insecurity. We have seen a rise in need over the years but last year was our most demanding year by far. There are a lot of people who find themselves in very challenging financial circumstances and we are here to offer support to them."
Fiona Rae, CFINE Depute Chief Executive, said: "We would like to thank Subsea 7 for their generous contribution to our cause. The donation will help us maintain our support services benefitting hundreds of individuals and families every week. Together we can offer a helping hand to anyone who is facing challenges. Thank you!"
Emily Mackenzie, Aberdeen Cyrenians Communications and Events Coordinator, said: "The funds donated by Subsea 7 are crucial in helping people in our community affected by homelessness, abuse, crisis, addiction, poverty, mental illness and other forms of social exclusion.
"We are extremely grateful for the support as we continue facing another challenging year. We've seen a staggering increase in demand for our services since the beginning of the first lockdown back in March 2020, and whilst we have had to change the way we provide help to keep people safe, we want everyone to know that all our support and services are still there and available. The extremely generous donation made by Subsea 7 will allow us to continue this support and help anyone in need or facing crisis in our community."
Recommended for you

Subsea 7 to buy floating wind foundation developer Nautilus