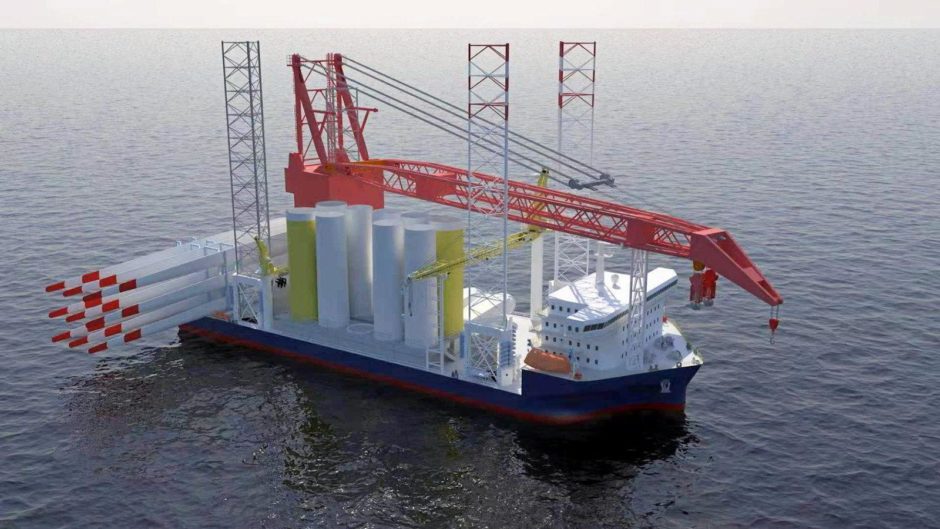 US firm Great Lakes Dredge and Dock Co (GLDD) has contracted ship builder Ulstein to move onto the integration engineering phase for the Jones-compliant rock dumping vessel earmarked for the nascent American offshore wind market.
The workscope includes the selection of vessel main equipment and the start of detail design prior to an order being placed at a yet-to-be-selected US shipyard.
Awarding this contract is intended to advance the engineering work, ensuring the vessel is on schedule to meet its operational target of Q2 2024.
The ship will be used to install protective layers of rock at offshore wind turbine foundations by means of an inclined fall pipe system.
The GLDD project is being keenly watched in US political, engineering and ship-building circles. Nothing like it has so far ever been built in an American yard.
A century old cabotage law loathed in Europe, the Jones Act compels construction in domestic US yards.
It is providing an umbrella that will enable the Americans to develop a fleet of offshore wind construction and support vessels which will inevitably seek to compete against the already sizeable and sophisticated European and Asian offshore wind fleets.
The offshore wind prize in the US is huge. More than 30 large projects are forecast to be developed there over the next 10 years, injecting around $88 billion of capital spending, with an up to $2.8bn annual opex opportunity across indigenous US support industries, including ship building.
First of many Chinese sisters
Way out east, the CIMC Raffles shipyard in China has secured a contract to build the first 3060 WTIV class offshore wind turbine installation vessel for the Chinese market, with a flotilla of sisters signalled to follow.
The first vessel is scheduled for delivery to Boqiang Heavy Industry Group in Q1 2023, initially for deployment in the Chinese market. The contract includes options to build an undisclosed number of sister vessels.
The 3060 WTIV class will be capable of handling next generation super-turbines of up to 20 megawatts.
Boqiang intends to own a fleet of these ships and seek to conquer the European market.
Other Chinese engineering, procurement and construction contractors are reported to be showing an interest, including Huadian Heavy Industries, which is a unit of one of China's top five power utilities, Huadian.
Late last year, Huadian secured the contract to build the first offshore wind farm in northern China's Bohai Bay, which is also the main production region for China's offshore oil and gas industry.
In January, it emerged that Yantai CIMC Raffles Shipyard and Huadian had entered into a comprehensive strategic cooperation agreement on the development of new wind projects offshore China.
The scope of this cooperation includes wind turbine installation and lease and sale of equipment. CIMC Gretha, the semi-submersible crane vessel built and owned by CIMC Raffles, will also participate in the joint offshore wind projects between the two companies.
The 3060 WITV class was initially designed to work in water depths to 65 metres, although the envelope can be pushed to 80m if the longer jack-up legs option is selected.
It will be fitted with a Husiman crane with a lifting capacity of 2,200 tonnes. Though Dutch, Huisman has a major Chinese crane building capability at Zhangzhou City, Fujian Province.
The deck space will be able to accommodate four sets of 12MW  turbines or eight sets of 8MW turbines.
Seven months ago in October, Norway-based OIM Wind placed an order for a slightly smaller capacity wind farm constructor, with the option to build a further sister.
The BT-220IU turbine installer was developed by OIM in cooperation with CIMC Raffles and its Swedish subsidiary, Basstech.
It too will be fitted with a Huisman crane and is supposed to enter into service by the end of 2022.
Norwegian company OSM Maritime will operate the vessel, which will initially be able to handle turbines of up to 15MW.
Recommended for you

Typhoon tears BP FPSO from Chinese dock