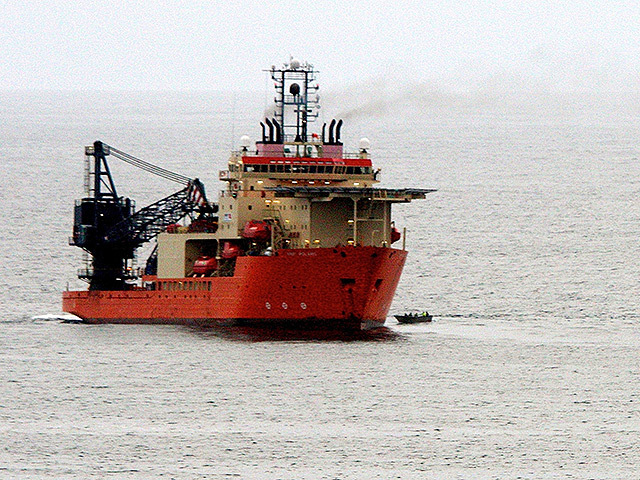 Wreckage of the Super Puma helicopter that crashed into the North Sea last week, killing four people, has been taken to an island harbour.
The Bibby Polaris salvage boat arrived at Lerwick Harbour in Shetland at around 4am this morning, the harbour's port control have said.
Important sections, including the gearbox, were located – although the cockpit data recorder remains missing.
The Super Puma AS332 L2 came down two miles off Sumburgh Head around 6.20pm on Friday, killing three men and a woman.
The helicopter had been transporting 16 workers from the Borgsten Dolphin platform to Sumburgh Airport.
The pilot of the aircraft broke his back in the incident and the remaining passengers also received hospital treatment.
The fuselage was due to be brought ashore last night, but the operation was postponed after divers found more wreckage.
It is thought to be on the seabed at an area known as Point of Garths Nest, although conditions were too rough to investigate last night.
READ MORE:
Timeline: How the Super Puma tragedy unfolded
Reaction: Norway rejects union calls to ground helicopter fleet
Video: We must wait for full facts to become clear, says industry chief
Police Scotland and the Air Accident Investigation Branch (AAIB) launched a joint investigation into the cause of the tragedy.
Detective Superintendent Malcolm Stewart, who is leading the enquiry, said: "This investigation involves a number of officers from across Scotland and we currently have a team of 25 officers conducting inquiries in Shetland, with a similar number carrying out enquiries in Aberdeen.
"A number of resources from across Scotland have had to be deployed and there remains a large amount of complex and sensitive work to be carried out.
"In terms of the inquiry, officers are continuing to trace, interview and take statements from a large number of individuals, both on and offshore and this evidence will form an integral part of the ongoing investigation.
Four people were killed when the CHC-operated aircraft plunged into the sea – Sarah Darnley, 45, from Elgin, Gary McCrossan, 59, from Inverness, Duncan Munro, 46, from Bishop Auckland, and George Alison, 57, from Winchester.
The fuselage of the chopper was recovered at the weekend and was taken to the mainland on the Bibby Polaris salvage vessel.
A spokeswoman for the AAIB refused to give any further details about the investigation and said a report would be issued in due course.