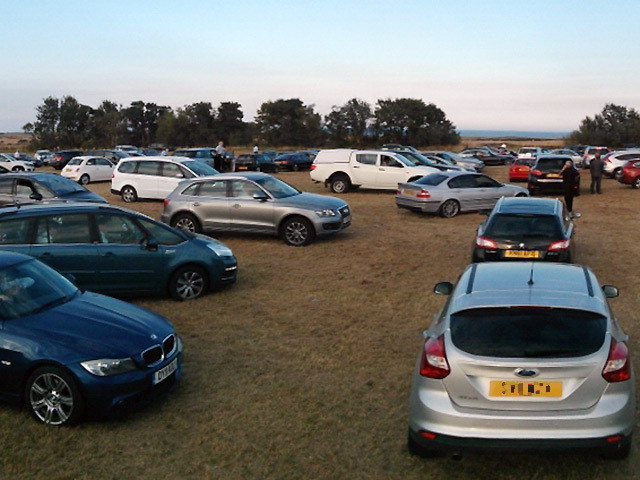 Bosses in charge of the Offshore Europe overspill car park at the centre of a lock-in row have defended their policy.
About 60 vehicles were blocked in a car park near the Aberdeen Exhibition and Conference Centre (AECC) on Wednesday night after a contractor secured the site at closing time.
More than 50,000 visitors from all over the world were expected to converge on the site for the four-day oil industry showcase and the number of extra vehicles meant that a raft of parking and traffic restrictions were put in place.
It is the AECC's policy to secure the land – which is being used as a temporary car park – each night so that groups of travellers do not set up camp.
Brian Horsburgh, managing director of the AECC, said: "We adhered to the procedures for the car park closure at 1900hrs each night as properly and visibly advertised in all car parks under AECC control for this event.
"Cars have been left overnight in various car parks this week without any issue."
And Vasyl Zhygalo, senior exhibition director for Reed Exhibitions, a partner for Offshore Europe, added: "We have reviewed what happened last night and will make any necessary adjustments.
"However, for safety and security reasons the car parks will still close at 1900hrs on Thursday."
A spokeswoman for the venue claimed that despite the advertised nightly closing time of 7pm, the car park had been closed at the later time of 8pm after a sweep of the area had been completed to ensure that no motorists were waiting to leave.
Traffic around the AECC was particularly heavy on Wednesday evening due to the offshore event and because of fans travelling to Pittodrie Stadium for Aberdeen's friendly against Norwegian side Viking FK. This prompted police officers to allegedly advise drivers to leave their cars and return when the traffic had calmed but when they did the blocks had already been placed behind a padlocked gate.
The contractor moved the obstruction at about 11.30pm and the delegates who had feared they would have to spend the night in their cars were able to drive off.
Last night, there was no repeat of the lock-in and no vehicles were left in the car park after closing time.