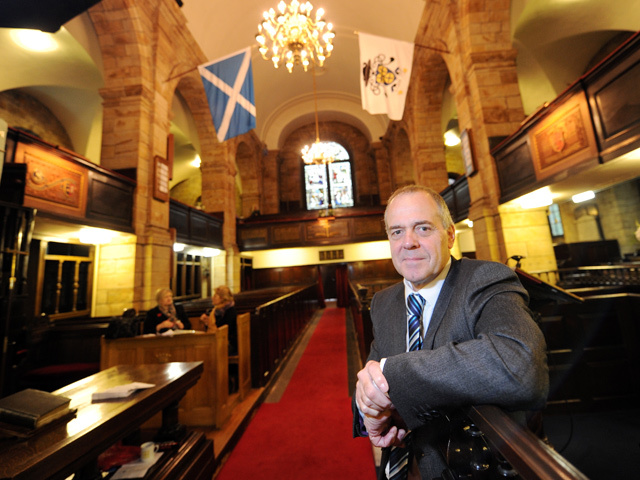 The families of four oil workers who were killed in a helicopter crash earlier this year will attend a special service today in their memory.
The remembrance ceremony at Aberdeen's Kirk of St Nicholas will honour all those in the UK oil and gas industry who have lost their lives at sea.
Families bereaved by the North Sea's worst disasters are expected to attend, including the relatives of those who died in the Super Puma crash in August.
Three men and one woman lost their lives when the helicopter they were travelling in crashed into the sea off Shetland.
The aircraft was on its approach to Sumburgh Airport, Shetland, when it suddenly lost speed and plunged into the water.
MORE:
Timeline – How the Super Puma tragedy unfolded
Survivor relives terror of Shetland crash
Report reveals pilots 'did not notice speed' of helicopter was dropping
Full coverage of the disaster and its aftermath
Most of the passengers and two crew managed to scramble to safety.
But four people died – Duncan Munro, 46, from Bishop Auckland, Sarah Darnley, 45, from Elgin, 59-year-old Gary McCrossan, from Inverness, and George Allison, 57, from Winchester.
The service of remembrance, organised by UK Oil and Gas Chaplaincy, takes place every year.
But the Rev Gordon Craig, who is chaplain to the oil and gas industry, said that this year would be particularly poignant as the Shetland crash was still fresh in everyone's minds.
He said: "The important thing is that we are gathering together to show support to the families who have lost their loved ones, and to remember colleagues and friends who we have lost."
Mr Craig added that, as well as honouring the memories of those who died in such tragic circumstances, it was just as important to remember those who died offshore who did not make the news.
Kevin Colley, Billy McKenzie and Eamonn Mooney will also be remembered at the service today.
"Although there are dangers in the offshore industry, in a normal year we will lose nine or 10 people who die from natural causes," said Mr Craig.
"You cannot forget the fact there are other families who have lost someone unexpectedly who did not return home from their shift. Their grief is just as raw."
Recommended for you

Bid to create Aberdeen memorial statue for North Sea divers