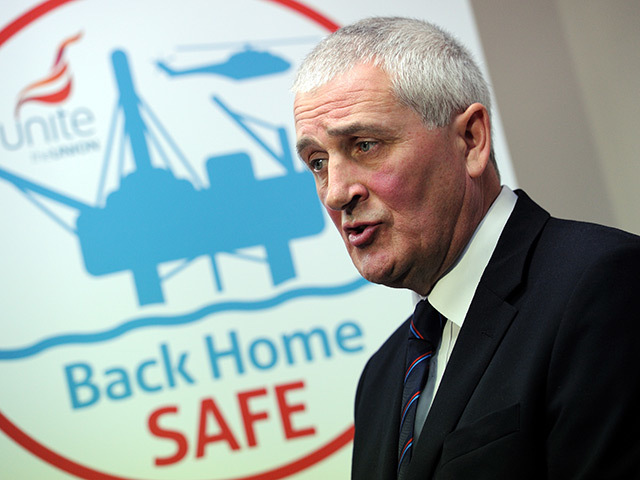 A union is calling for immediate safety improvements to offshore helicopter flights after it was revealed that industry workers lack confidence in the aircraft.
The Back Home Safe campaign was launched by the union Unite in Aberdeen yesterday after a survey revealed that more than half of offshore workers have little faith in the safety of helicopters.
The union is demanding safer emergency lighting and seating layouts on all offshore helicopters, immediate implementation of the safety recommendations from past helicopter incidents, an independent review of recent accidents and improved survival equipment and training for workers.
A total of 81% of 532 people questioned said their level of confidence in helicopter flights had decreased in the last 12 months.
The survey was carried out after a CHC-operated Super Puma L2 helicopter crashed off Shetland in August, killing four people.
READ MORE
Westminster helicopter safety inquiry opens for evidence
See our full coverage of the Super Puma crash and its aftermath
Tommy Campbell, of Unite, said: "It should not come as a surprise that offshore workers are very scared when they are travelling in helicopters.
"Some of the helicopters are based on 30-year-old designs and this needs to change for the 21st century.
"Workers do not want to be travelling jam-packed into these helicopters and there is very clearly too many seats onboard.
"In the event of an emergency, every aspect of safety equipment needs to be state of the art."
Watch our interview with Unite about the campaign launch below
Chris Gordon, a managing partner of Thompson's Solicitors, said he is offering legal advice to the families of three people who died in the August 23 accident and one of the survivors.
A spokesman for Oil and Gas UK said: "Oil & Gas UK acknowledges the concerns raised by Unite and takes them very seriously.
"Oil & Gas UK is working closely with Step Change in Safety, who is aware of similar concerns raised by the workforce, with the helicopter operators to review the emergency lighting inside the passenger cabin and with Eurocopter to review the seating."
Recommended for you

Babcock agrees sale of Aberdeen-headquartered helicopter business to CHC