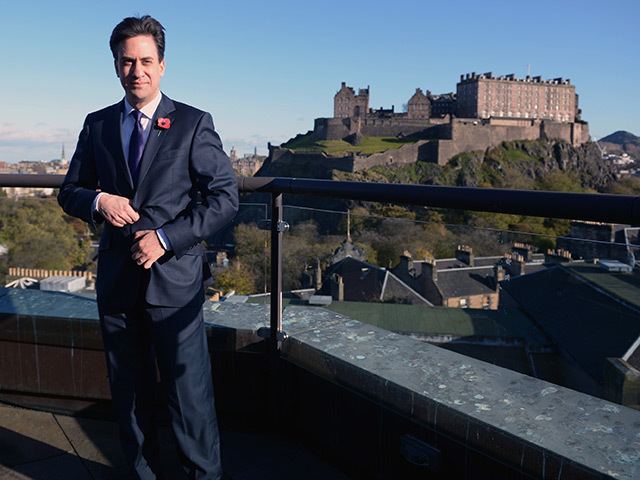 An energy price freeze would save Scotland £500million, Ed Miliband claimed yesterday.
The Labour leader said businesses and families would benefit under plans to tackle the "cost of living crisis".
On a visit to Edinburgh, Mr Miliband insisted it would help hard-pressed families who are more than £1,400 worse off since the general election due to prices rising faster than wages.
Against the backdrop of Edinburgh Castle, he said only Labour would take the sort of action needed to fix "broken" markets.
"Take gas and electricity. If Labour win the election, we will freeze prices until 2017," he said.
"A freeze that would save Scottish businesses £200million and Scottish families £300million."
Deputy Prime Minister Nick Clegg claimed it would threaten green investment.
He said: "Labour's promise to temporarily freeze energy bills – as well as being a con, with energy companies bound to hike up prices both before and after – would also be a huge blow to our renewables sector, spooking investors and threatening billions of pounds worth of investment in green energy. The only thing green about this policy is its naivety."
SNP Westminster energy spokesman Mike Weir said: "What Labour propose is not workable, and they have already admitted that if wholesale prices rise, they could not deliver the freeze.".
Meanwhile, power firms were cleared yesterday of rigging wholesale gas prices. Year-long investigation by energy watchdog Ofgem found no evidence of wrongdoing.
The probe was triggered after a whistleblower claimed the gas market had been "regularly" manipulated by some big power companies – prompting concern that this could affect energy prices for households.
The investigation focused on allegations that gas was sold at a lower-than-market price at around 4.30pm on September 28, 2012, to manipulate the benchmark price in Britain used by the industry to influence a range of contracts.
But Ofgem said the unnamed sellers of the six lowball trades that day have given "credible" explanations to "demonstrate that their trading activity was not improper".
Meanwhile the Labour leader has accused Alex Salmond of not as progressive as he claims over energy bills.
The Labour leader accused the first minister of failing to support hard-pressed families and for sidling up with the big energy companies.
He claimed only Labour had the social and economic policies to reform the banking system, promote a living wage and give families and businesses respite from spiralling energy bills. While Labour wanted to take on payday lenders, Mr Salmond's priority for business was a 3p cut in corporation tax.
Just this week the Conservatives and SNP refused to back Labour's energy price freeze in the Commons, he said.
Mr Miliband accused the SNP of going into "hiding" and being unwilling to stand up against the energy companies.
"Alex Salmond is fond of claiming he offers a 'progressive beacon'," he said.
"He is trying to paint himself as progressive but it is a poor imitation. He is trying to catch up with Labour on the cost of living crisis and failing. He and David Cameron are standing side by side with the big energy companies. The prime minister, the first minister and the big six energy companies making a new big eight, squeezing the living standards of the Scottish people."
SNP Westminster energy spokesman Mike Weir accused Labour of playing political games rather than addressing the issue. "The SNP have clearly set out that we would remove the costs of fuel poverty measures from bills which would reduce bills each and every year by 5%, or £70 per year, giving help to hard-pressed consumers year in and year out and paving the way for a more targeted and effective programme," he said.
"In addition, the Scottish Government policies, such as freezing the council tax – which alone saves people 10 times as much as Labour's proposed energy freeze – have made a real difference in reducing the cost of living of Scottish consumers."
Recommended for you

Miliband: 'We're going to carry on using North Sea oil under Labour'