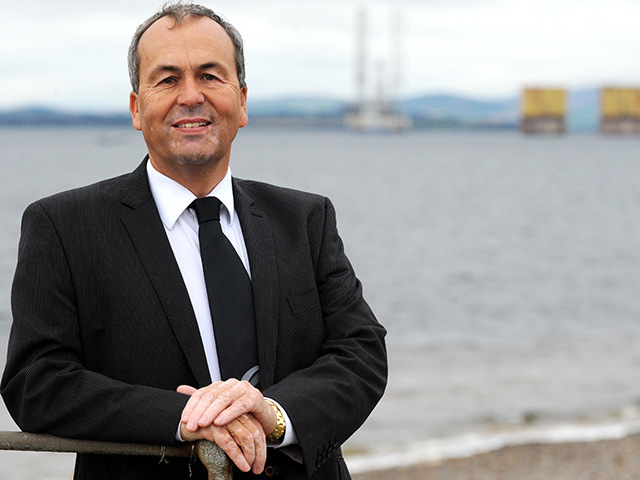 After a three course meal, Roy MacGregor, the founder and chief executive of one of the Highland's most promising engineering firms, joined the ranks of the Entrepreneurial Exchange's elite hall of fame.
"It was unexpected," said the quietly spoken chairman and founder of Global Energy Group after he had digested the dinner and the news of his accolade.
"It wasn't just for me, it is for the whole business. I was glad to be there to pick it up on behalf of everyone," he added.
Both Mr MacGregor and IT entrepreneur Ann Budge were inculcated to join a list which includes some of the best known names in Scottish business, including the Sir Tom Hunter, Sir Tom Farmer and the "fridge magnate" Willie Haughey.
And while the 42-strong list also includes a number of very rich and successful business leaders from the north – Sir Ian Wood, Sir Moir Lockhead, Martin Gilbert and Stewart Milne, Mr MacGregor is secretly pleased that he is the first Highlander to join.
"Of all the people who have gone before me, I am the first Highlander. It is a major recognition for this part of the world."
But the Invergordon-born 60-year-old admits that winning a lifetime achievement award might be a bit premature.
He was well known in the north already, having a majority stake and chairing Ross County FC.
But it was in 2011 that Mr MacGregor made his mark with the acquisition of the Nigg shipyard for around £10million.
Negotiations over who the owners would sell to were delicate and long. The American industrial conglomerate KBR was keen to sell up. But its other owner, the Wakelyn Trust, a family trust of the late Michael Nightingale, owner of the Cromarty Estate, wanted the asset "protected and carefully managed".
Mr MacGregor's plans will see continued development at the site as a powerhouse in the oil and gas sector, with prospects to lure a major offshore wind turbine manufacturer a tantalising prospect.
Plans are afoot to invest £37million in the site, which had been largely abandoned for a decade, with a potential workforce of 2,000 by 2015. But its wholesale transformation has yet to come about.
Mr MacGregor said: "There's huge potential at Nigg – we are just at the beginning with the oil and gas and renewables [industry].
"It is the start of something big there."
He added the firm was "still very hopeful" that Nigg will play an instrumental role in Scotland's renewables manufacturing capacity.
"You can see all the debate about renewables and energy prices. That is all in the mix. But it will happen – maybe not quite as quickly as everyone thought – but I'm sure it will be part of the energy profile."
From his house above Invergordon, he can see development at Nigg unfold.
He started work at the former shipyards there as a young man employed in the personnel department. He left to join his family's supermarket business but then in 1994 he started – and subsequently sold – his engineering firm to private equity investors.
He launched Global Energy Group relatively late in life, in 2005, and the firm's growth since has been extraordinary.
This year he expects the company will break through a £500million turnover, which he said was "quite remarkable" considering the relative youth of the firm.
"We are looking towards doubling the business in the next three to five years. Everything is in place for that," he affirmed.
Yesterday, the company continued its expansion when it announced the acquisition of electrical and instrumentation business Cunningham Construction, in Australia.
It will be the sixth business Global owns down under with the firm now active in 11 countries.
Up until the day he acquired Nigg, the family-owned business managed to maintain its low profile. Doing so now, he admits, will be increasingly difficult as the firm continues its global expansion.
"It becomes more difficult the bigger we get," he said.
The company is still 75% owned by the MacGregor clan, which includes his four sons. Japanese industrial conglomerate Mitsui took a 25% stake in the firm last year.
The deal showed that Global was achieving the ambition in its name.
Roy McGregor: Questions and Answers
Who helped you get where you are today?
A lot of people along the way – I am a good listener and all my good ideas were adapted from others.
What do you still hope to achieve in business?
I would like to build the business from £500million to £1billion and still be headquartered in the Highlands.
If you were in power in government, what would you change?
I really would like to see politicians getting closer to the people they represent.
What are you reading, listening or glued to on TV?
Alex Ferguson's biography – really enthralling and a good book for budding business people.
If you were a character in a TV series or movie, who would you be?
Gary Lineker – Match of the Day – he has achieved a good balance between football and entertainment.
What do you drive and dream of driving?
Currently I drive a Mercedes 350 diesel – mainly for safety reasons as I cover in excess of 30,000 miles a year.
What would your children or partner say about you?
They would say I work too hard and need to cut my workload back.
Which charity do you support and why?
I support the Capstone Project in my local Free Church of Scotland in reaching out to the community.
Recommended for you

Wind industry heavyweight to join Semco Maritime board