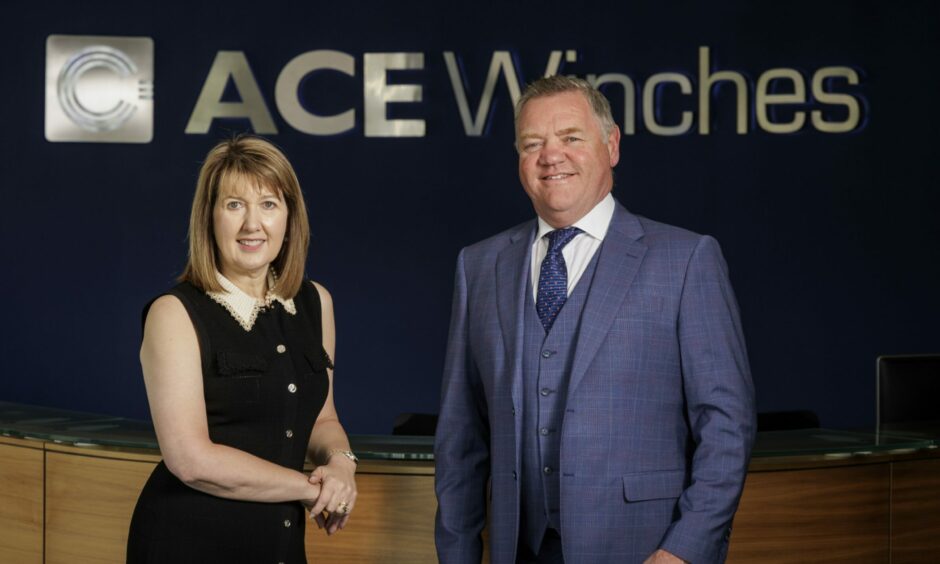 One of the north-east's best -known businesses, Ace Winches, has reported an "outstanding" financial performance.
Profits at the deck machinery specialist more than trebled during the year to March 2023, on the back of a near-45% jump in sales.
Ace said its blockbuster figures were driven by decommissioning activities in Brazil and renewables projects in Europe, the US and Taiwan, as well as new business from existing clients in more traditional energy markets.
Pre-tax profits surged to £13.2 million, from £4.2m a year earlier. Turnover skyrocketed to £42m, from just under £29m previously.
£1.6m invested in Ace's fleet, while owners share £3m dividend payout
Underlying earnings before interest, taxes, depreciation, and amortisation raced ahead to £16.1m in the latest period, more than double the £7.6m achieved during 2021-22.
The 2022-23 figures allowed Ace's owners, Alfie Cheyne and his wife, Valerie, to pay themselves a dividend totalling £3m, which has been reinvested back into the business.
They also allowed the company to invest another £1.6m in upgrading its in-house manufactured hire equipment fleet, following a £1.3m total spend during 2021-22.
Middle East expansion
Ace, based at Towie Barclay Works, near Turriff, said its "significant" rental fleet now included 20 new environmentally-friendly electric and low emission diesel power units.
These run on biodegradable hydraulic fluids, which bolsters the firm's "net carbon neutral" status.
The firm recently announced the opening of a new "hub" in the Middle East as part of its global expansion plans, adding to its existing overseas bases in the US and Norway.
Mr Cheyne, Ace's founder and chief executive, said: "While we are best known for the design, manufacture and hire of lifting, pulling and deploying solutions, at heart we are an engineering company. We have a team of over 200 highly experienced individuals, who take on client challenges and transform them into creative, innovative, world-leading solutions.
"Our business has become ever-complex and our involvement with clients much earlier in project scope and design, combined with the dedication and hard work of the team has driven the uplift in our performance."
We have grown our business to better support renewable energy projects worldwide and will continue to innovate in this sector to ensure continued success."
Hailing the firm's successful diversification into new markets, he said: "We have spent the last three years supporting construction at Dogger Bank, the world's largest offshore windfarm, off the coast of Yorkshire. We have grown our business to better support renewable energy projects worldwide and will continue to innovate in this sector to ensure continued success.".
Operating in more than 50 countries, Ace works in partnership with clients across the oil and gas, marine, renewable energy and decommissioning industries to provide fully integrated packages for a wide variety of challenges.
Ace's humble fishing industry roots
The multiple award-winning business is in its 31st year of trading, having started out in humble fashion as a supplier of machinery to the fishing industry.
Ace's 59-year-old boss founded the business in 1992 but lost control of it to Balmoral Group, of Aberdeen, in stages between  2017 and 2019. But the relationship with Balmoral turned sour and Mr Cheyne and his wife reacquired the firm in late 2021.
The group employed 148 people, on average, during its 2022-23 trading year.
Recommended for you

Ashtead Technology acquires Ace Winches for £53m