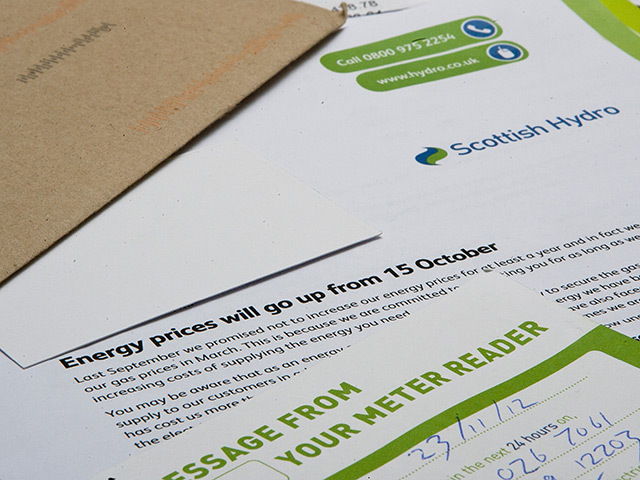 Energy complaints have soared in the first three months of this year – a 224% rise on the first quarter of 2013, the energy sector's ombudsman said.
Between January and March, complaints trebled to 10,638, compared with 3,277 received during the same period last year.
The numbers suggest that 2014 will see more complaints overall, as there were 17,960 complaints made over a 12-month period last year.
The latest figures from Ombudsman Services show increases of record levels, and come soon after regulator Ofgem said that it was referring the sector to the Competition and Markets Authority for a full-scale competition inquiry.
More than 2,000 consumers complained about not receiving bills, while 1,474 people made complaints about billing charges. More than 1,000 consumers criticised the quality of customer service.
Chief Energy Ombudsman Lewis Shand Smith called for increased transparency in the wake of the figures released.
"Consumer frustration and dissatisfaction is something that we hear about every day, and we welcome any attempts by Ofgem to make the energy market fairer," Smith said..
"With energy complaints trebling in the first quarter of this year and problems relating to billing the greatest concern, increased transparency is something that should be addressed."
A spokeswoman for Energy UK, the trade body that represents the industry, said most customers had no problems with their energy company, but accepted that sometimes things go wrong.
"If a customer has any concerns relating to their bills, they should contact their provider as soon as they can, and if possible have an up-to-date meter reading to hand which will ensure their bill is as accurate as possible.
"Energy companies work very hard to resolve problems and most complaints are fixed within a few working days with no more than a phone call."
The spokeswoman said there were new rules in force which made matters "more open and clear for customers including: explaining bills so people understand what they are paying; making it easy to switch; ensuring customers are on the right deals; and simplifying tariffs".
SSE, one of the Big Six companies, said it was listening to customers' concerns and was committed to freezing prices until at least 2016.
"We have also made improvements towards our customer service, including: the introduction of a customer service guarantee that gives money back to customers if SSE fails to meet a set of promises; an end to cold calling; a sales guarantee which gives customers peace of mind when they buy from SSE; simplified tariffs and bills; and the introduction of an online SSE energy price checker – making it even easier for customers to get a quick energy price and compare the tariffs on offer," a spokeswoman for the SSE said.
The figures provided by the ombudsman are the highest ever recorded, she added.
She said the "unbelievable" increase was due to greater pressures on families and individuals financially which meant they were less willing to put up with poor service.
A Department of Energy and Climate Change spokeswoman said: "The rise in the number of complaints is worrying.
"We would advise consumers to shop around and switch to find a better deal, whether on cost or customer service."
Recommended for you

Decom Engineering appoints BG and Aker veteran as Aberdeen manager