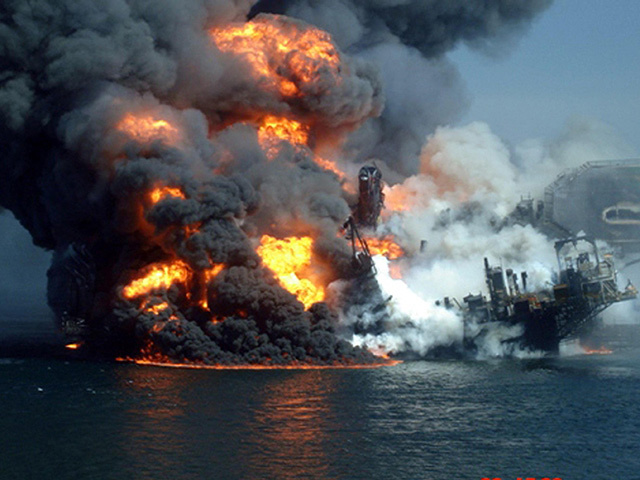 BP has challenged a federal judge's ruling that the company's exploration unit acted with gross negligence in causing the 2010 Gulf of Mexico oil spill, a decision that exposed the UK-based energy company to as much as $18 billion in fines under US law.
This is BP's first appeal of US District Judge Carl Barbier's September decision that the company was 67% responsible for causing the worst offshore spill in US history.
The judge determined rig-owner Transocean Ltd. (RIG) was 30 percent liable and cement-services provider Halliburton 3% responsible for the disaster, which killed 11 workers.
Barbier's finding that BP was grossly negligent and that its actions at the Macondo well "amounted to willful misconduct is not supported by the evidence at trial," Geoff Morrell, a company spokesman, said. "The ruling should be overturned."
BP previously filed multiple appeals on aspects of its $9.7 billion settlement of economic damages tied to the spill.
The US Supreme Court refused without explanation December 8 to consider the company's claim that the settlement administrator is paying victims that BP says weren't harmed by the spill.
The cost of the settlement will probably be "significantly higher" than $9.7 billion, as thousands of claims remain to be processed, the company said in an October 28 regulatory filing.
The settlement, reached in 2012, doesn't cover additional spill-related losses claimed by Gulf Coast financial institutions, casinos, real estate firms, state and local governments, or companies affected by the federal deep-water drilling moratorium imposed after the spill.
The committee of lawyers representing BP spill victims filed their own appeal of Barbier's September ruling in a single-sentence notice today.
Steve Herman, a leader of the committee, pointed in an e-mail to a passage in Barbier's decision that ruled out punitive damages against BP.
Barbier said that while BP's "reckless, willful and wanton conduct" during the drilling operation would've normally triggered triple damages, he couldn't award punitives because of an unrelated prior ruling by the US Court of Appeals for the Fifth Circuit in New Orleans.
Lawsuits filed in Alabama and Florida, which lie outside that court's jurisdiction, might still qualify for punitive damages, Barbier said.
"As Judge Barbier found, BP personnel were reckless and willful," Herman said. "This conduct is egregious enough to merit a punitive damage award, and the Fifth Circuit should review the matter because there is a conflict between the circuits."
BP faces a non-jury trial in January, when Barbier will determine how much the company owes in pollution fines by considering the amount of oil released, BP's level of culpability and its efforts to mitigate the spill, among other questions.
The gross negligence ruling triggers maximum potential fines of $4,300 per barrel of oil spilled, under the Clean Water Act. The US claims 4.2 million barrels were spilled into the Gulf; BP pegs the spill at 2.45 million barrels.
BP has spent $28 billion so far on spill response, cleanup and damages, according to its most recent financial statement.
The company has taken a $43 billion pretax charge to earnings to cover all anticipated spill-related expenses.
The case is In re Oil Spill by the Oil Rig Deepwater Horizon in the Gulf of Mexico on April 20, 2010, MDL-217
Recommended for you

Shell to pay $110million to end 30-year Nigeria oil spill case