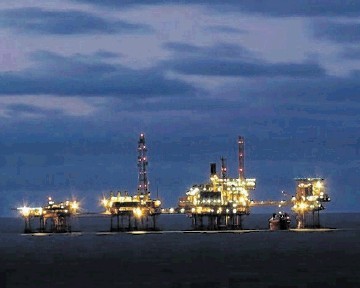 Three businesses serving the oil and gas industry have notched up a string of contract wins and investments worth around £5million in total.
EFC Group will today reveal that it has scooped four contracts worth a combined £3.65million, while Sir David Murray's Alphastrut has signed a "six-figure" deal with Det Norske and Arnlea Systems is investing £1million in its software.
Aberdeen-based EFC – which designs and makes controls, instruments, monitors and handling systems – has landed two blowout preventer (BOP) control system deals with drilling contractor Ensco worth more than £1.65million in all.
The deals consist of £1million of equipment and installation work for Ensco's 5004 rig in Europe and £650,000 of equipment work for its 5005 rig in the Asia-Pacific region.
EFC has also won a pair of £1million BOP contracts for an unnamed drilling contractor.
Chief executive Bob Will said: "These are some major contract awards for EFC Group, which involve the delivery of equipment critical to ensuring well integrity."
"Together these four projects represent more than £3.65million of contract awards for our subsea controls division.
"Our work in this area has grown significantly over the past few years thanks to our demonstrable success in providing top-quality subsea systems to the oil and gas industry."
News of the deals comes as Alphastrut announced that it had been awarded a "six-figure contract" by Det Norske.
Under the deal, Alphastrut, meanwhile, will provide an aluminium cable management support system for the Ivar Aasen development in the Northern North Sea.
The system is being built by SMOE in Singapore and will be installed on the Ivar Aasen before the end of March. As well as supplying the equipment, Alphastrut will provide training and support.
Alphastrut was bought in May by Manchester-based Murray Metals and Edinburgh-based Murray Capital, the investment vehicle run by former Rangers football club owner Sir David Murray and his family.
Managing director David Lawson said: "We are pleased to be awarded this significant contract with Det Norske and it is extremely promising to see that the full potential and capabilities of Alphastrut is being recognised within the industry.
"Alphastrut has already been installed in a number of North Sea assets and its global reach continues to grow."
Meanwhile, Aberdeen-based Arnlea Systems has pumped £1million into the development of its Intrinsix software, which allows companies to manage their assets and stock.
The company raised £5.5million last year through a private equity-backed management buy-out, tripling its in-house design team to 30 and expanding into offices at Johnstone House. The firm now plans to grow its team's headcount further to 50 workers over the year ahead.
Managing director Allan Merritt said: "Over the past 20 years, Arnlea has invested considerably in product development with more than £10m devoted to evolving our technology and product set."
Recommended for you

Australia's Santos reports $2.5bn profit surge from higher oil and gas prices