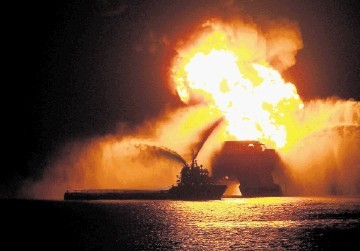 The Obama Administration has unveiled plans for keeping offshore oil wells in check, just a few days before the fifth anniversary of the Deepwater Horizon explosion.
The US Department of Interior said the measures would include more "stringent design requirements" and operational procedures.
Secretary of the Interior, Sally Jewell, said the aim of the proposed measures was to further build on the lessons learned from the 2010 incident in the Gulf of Mexico, which killed 11 workers.
She said: "Both industry and government have taken important strides to better protect human lives and the environment from oil spills, and these proposed measures are designed to further build on critical lessons learned from the Deepwater Horizon tragedy and to ensure that offshore operations are safe.
"This rule builds on enhanced industry standards for blowout preventers to comprehensively address well design, well control and overall drilling safety."
The proposed rule, which will be open for public comments, addresses the range of systems and equipment related to well control operations.
The Interior Department said the measures have been designed to improve equipment reliability and build upon enhanced industry standards for blowout preventers and blowout prevention technologies.
The rules will also include reforms in well design, well control, casing, cementing and real-time well monitoring and subsea containment.
In the 2010 Deepwater Horizon disaster the blowout preventer was recognised as a "point of failure" as well as a number of other barriers.
The US Government said: "The cascade of multiple failures resulted in the loss of well control, an explosion, fire and subsequent months-long spill.
"In connection with this rulemaking, BSEE (Bureau of Safety and Environmental Enforcement) worked with a wide array of stakeholders to comprehensively address well control measures and
equipment."
The Outer Continental Shelf accounts for more than 16% of US oil production and about 5% of domestic natural gas production – bringing in revenues of more than $7.4billion to the Treasury last year alone.
There also now more floating deepwater drilling rigs working in the Gulf of Mexico than prior to the Deepwater Horizon spill, and drilling activity is expected to increase this year.
Recommended for you

IOGP: Part of the Solution…'We mean it'