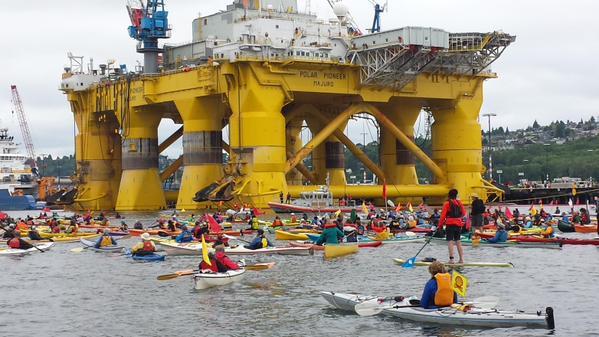 The camera pans up with a slight jerk, and lingers for a moment on the oddly familiar woman in the pink dress, splayed on the grass, holding herself up on her arms. Did she trip? What is it that she's trying to see?
We follow her gaze to the two weathered farm houses and back, have a second or two to recall that this woman Andrew Wyeth painted back in 1948 was his neighbor, Anna Christina Olson. Next we're transported to William Bradford's depiction of Melville Bay, before skipping to the pastiche of Highway 138 in David Hockney's Pearblossom Highway.
By the time we jump back seconds later, Christina's World has caught fire.
Flames race up the surface, and the paint chars. The same happens in short order to the Bradford and the Hockney, and, as a horror movie whine reaches an alarming pitch, the backdrops of these iconic paintings are replaced with apocalyptic montages of actual oil spills and disasters from the British artist collective Kennard Phillips.
Fear not: Greenpeace didn't actually destroy these works to create a 1:44 minutes video. The clip, released this morning, protests Shell moving ahead with plans to drill in the Chukcki Sea, north of Alaska.
"Shell could be risking disaster by drilling for oil in Arctic waters in less than six weeks," says Elena Polisano, Arctic campaigner for Greenpeace, the global environmental activist organization.
"We made this video to expose that, and show how its plans affect all of us too – because the impact of climate change affects the places we all live in." The non-profit says it hopes the video will continue the spirit of protest from Seattle, where the Shell rig was met with a "festival of resistance" the week before last, including a "kayaktivist" blockade.
"All the evidence shows Shell can't drill for oil safely in the Arctic. The extreme conditions mean it's when, not if, a spill will happen," Polisano adds. Beyond the threat of a spill, Polisano and Greenpeace say that drilling in the Arctic is "incompatible with limiting global warming to no more than 2 degrees above pre-industrial levels, a target agreed by most governments."
Such combustible propaganda rarely deters multinational oil companies from their plans, but this one will be worth watching if only because it's a sequel, of sorts, to "LEGO: Everything is not awesome."
That 2014 short, which saw an Arctic landscape rendered in Lego slowly drowned in motor oil, targeted the Danish toy maker for its Shell co-branded building sets, and used a version of the hit song from The Lego Movie. It's since been seen by more than seven million people, and sparked letters and even demonstrations by children where Lego is sold.
Lego elected to discontinue its decades-long relationship with Shell.
At the time, Lego Group president and CEO Jørgen Vig Knudstorp stated that "We do not want to be part of Greenpeace's campaign and we will not comment any further on the campaign."
One might wonder if Andrew Wyeth might feel the same.
Recommended for you

Norway activists take fight on Arctic oil drilling to European Court