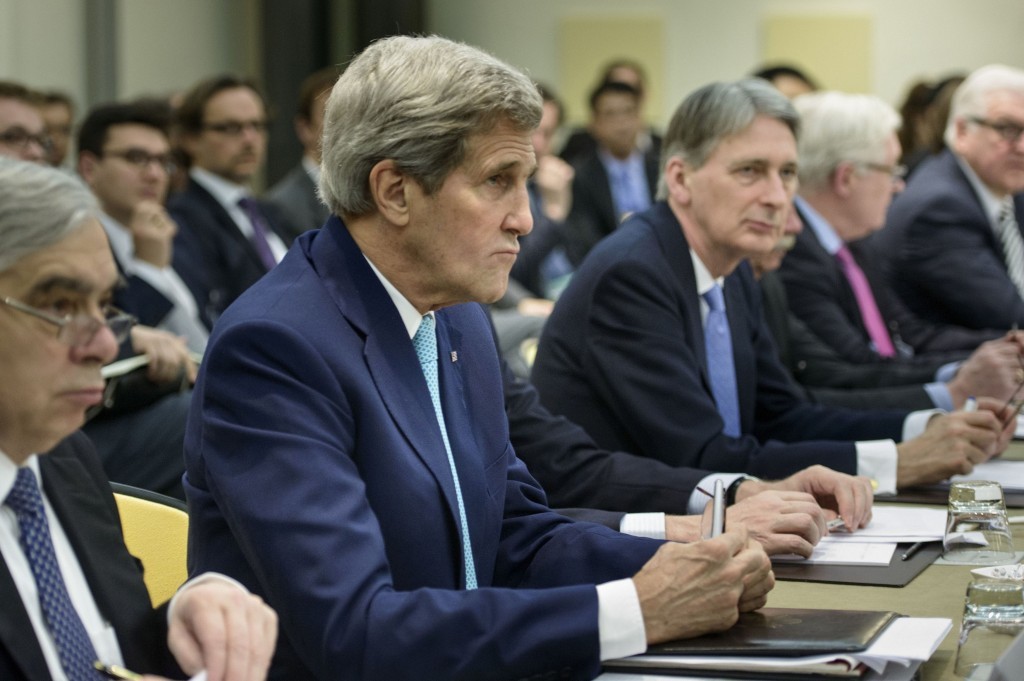 Diplomats in Vienna are close to clinching a historic deal to curb Iran's nuclear program, according to European Union foreign policy chief Federica Mogherini.
"We are near to close the deal, it is a good deal," Mogherini told reporters late Sunday after meetings with U.S. Secretary of State John Kerry and Iranian Foreign Minister Mohammad Javad Zarif, who was heading to Tehran for consultations with his leadership before returning to Vienna.
Mogherini said both sides have shown the "political will" to finish drafting a long-term accord to limit Iran's nuclear activities. Foreign ministers from all seven nations involved in the talks will gather again in the Austrian capital once a deal has been drafted, said Mogherini. The negotiations are in their 21st month.
Underscoring progress, two diplomats from among the six countries negotiating with Iran said the country has agreed to wait for sanctions relief until after United Nations inspectors have verified that curbs are implemented. Final details are to be worked out on the International Atomic Energy Agency's assessment of the possible military dimensions of Iran's past nuclear work.
That compromise would resolve one of the most contentious issues bedeviling negotiators confronted with public statements by Iranian officials who have insisted sanctions relief take effect immediately once a deal is agreed to.
'Not Trustworthy'
Strident comments by Iran's Supreme Leader, Ayatollah Ali Khamenei, raised concerns that Iranian negotiators might be forced to backtrack on a framework accord agreed to in Lausanne, Switzerland, in April.
"The agency has proven again and again that it is not trustworthy," Khamenei said June 23 about the IAEA investigators who will have to verify the agreement.
Mogherini said Sunday that neither side was trying to renegotiate points of agreement. "Postponement is not an option," she said, squelching speculation that negotiators might need a pause in the talks.
Mogherini's upbeat comments contrasted with more cautious remarks by British Foreign Secretary Philip Hammond, who said Iran needs to show more "flexibility" and that "tough choices will have to be made by all of us."
Privately, U.S. and Russian diplomats said progress had been made, but declined to predict when a deal could be finalized.
'Political Will'
A deal "will be possible, provided that the other side has the needed political will," Iran's Zarif said before leaving Vienna.
Zarif's brief return to Tehran may be a sign that he is engaging Iran's senior leaders in final consultations to commit to a deal, said diplomats at the talks. Ministers from the six world powers — the U.S., U.K., France, Germany, China and Russia — will meet their Iranian counterpart again in the Austrian capital within days.
Iran has been subject to dozens of international sanctions targeting energy, banking, mining, shipping, ports and an array of other trade that have damaged its economy, even as its nuclear capacities continued to grow.
Sanctions on Iran, including oil and banking restrictions, would be phased out in step with Iranian implementation of the deal, according to several diplomats from two delegations. Negotiations continue on the exact sequencing of sanctions relief and the timing for a UN Security Council resolution that would enshrine the deal and set the path for sanctions relief, they said.
Phased Approach
Iranian negotiators have agreed on the phased approach to sanctions relief once the IAEA has verified compliance, Trita Parsi, founder of the National Iranian-American Council and an advocate for a deal, said in an interview in Vienna.
Parsi, who said he had spoken with Iran's negotiators, outlined the three stages that could result in a face-saving solution that recognizes both sides' red lines: first, an agreement is made; second, a pause is taken while the U.S. Congress reviews the deal; and third, Iran receives sanctions relief after the deal is verifiably implemented.
Recommended for you

'Distressed' crude from Venezuela, Iran stacks up off Singapore