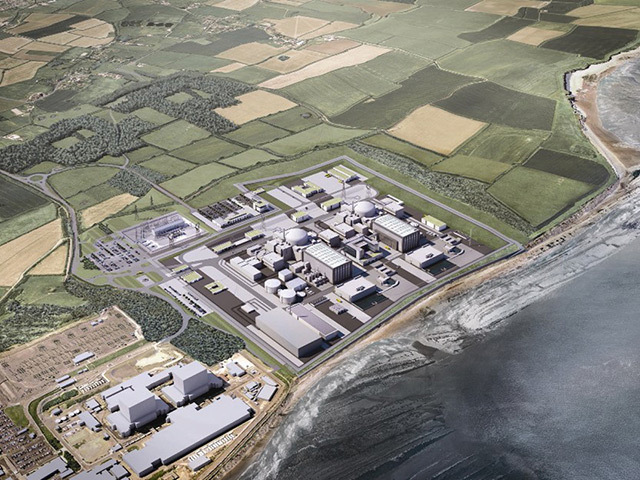 A Conservative former energy secretary has insisted the "elephantine" Hinkley C nuclear project is "one of the worst deals ever" for British consumers and industry.
Lord Howell of Guildford told peers he would "shed no tears" if the multi-billion pound development in Somerset by French giant EDF Energy was abandoned in favour of smaller nuclear plants at a later date.
He warned no reactor of the kind planned for Hinkley C has "ever been completed successfully".
Speaking during the second reading of the Energy Bill, Lord Howell told peers: "By far the biggest obligation or future burden on consumers and households is the Hinkley Point C nuclear project.
"I'm very pro-nuclear, I'm pro its low carbon contribution but this must be one of the worst deals ever for British households and British industry.
"When you add to this that the component suppliers to EDF are in trouble, costs keep rising, no reactor of this kind has ever been completed successfully – those that have been built are years behind – workers at the site have been laid off, personally I would shed no tears at all if the elephantine Hinkley C project was abandoned in favour of smaller, possibly cheaper, nuclear plants a bit later on.
"Our far better hope lies with Japanese nuclear plans at Wylfa and Moorside. They can build quicker with more tested and reliable reactor designs, and because of cheap gas for years to come we will not need them so soon anyway.
"And I'd very much like to hear the minister's assessment of what is happening on this front."
Roy Pumfrey, a spokesman for the Stop Hinkley Campaign, welcomed Lord Howell's comments, which came just a day after Energy Secretary Amber Rudd said there was a "very good prospect" a decision to build Britain's first nuclear plant would be taken later this year.
He said: "The Secretary of State for Energy appears to be delusional in thinking that Hinkley Point C will get built any time soon; deceitful by pretending that she is helping UK consumers and disingenuous for saying that Hinkley C is a good deal.
"Lord Howell reminded us that no reactor of the Hinkley C variety has ever been completed successfully and those that are being built are years behind."
Lord Howell welcomed changes in the Bill connected to onshore wind support and measures designed to help North Sea oil and gas.
He said he hoped the proposed legislation was the "harbinger of more changes" to come, adding the Government's energy policy is one of the "less happy legacies" of the coalition with "major alterations" required.
But the peer said energy policy-makers had failed to resolve the need to combine affordability, reliability and decarbonisation.
Lord Howell warned energy prices are "through the roof", adding: "It is ridiculous that in an advanced society energy and fuel banks have to be opened to help vulnerable people avoid freezing, or that Tata Steel has to lay off hundreds of workers because of cripplingly high electricity costs.
"This is self-harm on a grand scale."
The electricity supply system has become "precarious" while new gas turbine capacity is not being built fast enough despite the Government's "heroic" attempts to attract new investors, Lord Howell said.
Recommended for you

Government go ahead for Sizewell C nuclear power station