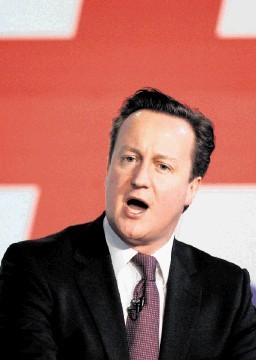 Prime Minister David Cameron insists the Conservatives have been the greenest government ever.
The Tories have taken criticism this week after unveiling plans to slash subsidies to solar power projects – with opponents claiming it would take Britain's renewable energy sector "back to the dark ages".
And today questions have been raised about the UK's decision to suspend a ban on a type of pesticide linked to serious harm in bees and pollinators.
However, Mr Cameron hit back at his detractors and argued his administration had done a great deal for the environment and renewable energy.
Speaking at the rural festival The Royal Welsh Show in Builth Wells, mid Wales, he said: "I believe we've been the greenest government ever and we've made great pledges in the last parliament which we've kept – like the world's first green investment bank, which is spending billions of pounds of investing in green energy.
"We have seen a massive increase in investments in renewable energies….we are now close to having 10% of our electricity needs being met by onshore wind. We have the world's largest off shore wind market."
Mr Cameron spoke to reporters just as news came in that there was was to be a temporary lifting of an EU ban on neonicotinoid pesticides.
Farmers' groups have welcomed the move, but environmentalists have condemned it.
Mr Cameron said: "We should follow the science. The EU put in place the ban on neo-nics, but we have to be informed by the science and if scientists start telling us that these things are
safer than they thought then perhaps we can licence them.
"But we do have think very carefully about these things. My view as someone from a rural constituency is that we should listen to the local experts such as the beekeepers and see what they have to say."
The National Farming Union was pleased about the relaxing of rules on two types of neonicotinoid pesticides – but claims the changes did not go far enough.
NFU vice president Guy Smith said: "We're glad to finally see a positive result.
"However, we know that this isn't enough and the extremely limited nature of this authorisation is unfortunately not going to help the vast majority of farmers in need of the protection."
Recommended for you

St Fergus operator in talks to support planned Aberdeen green energy hub