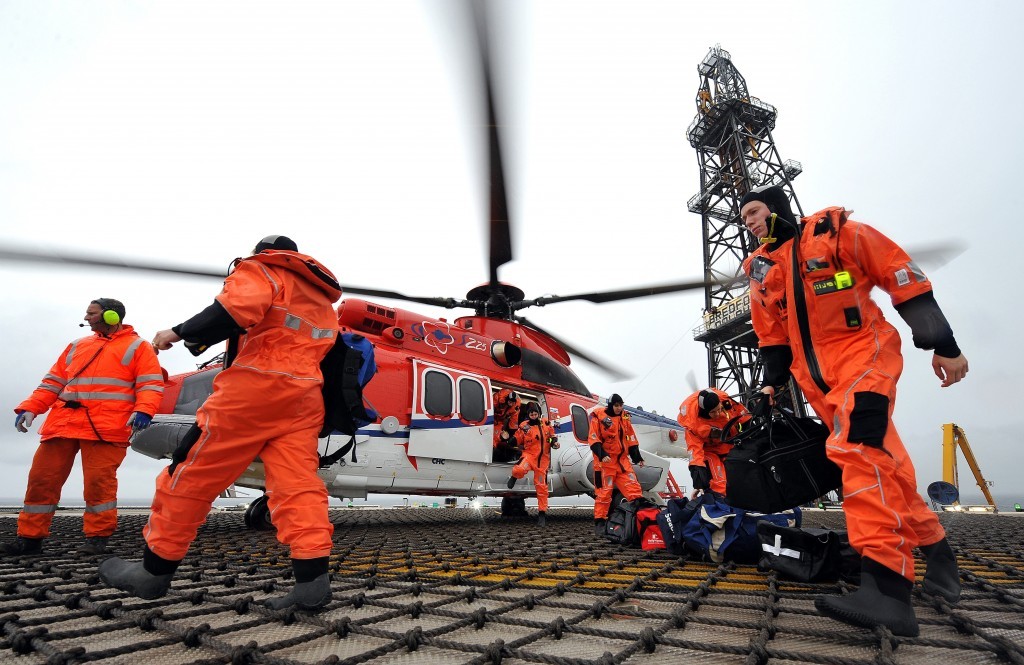 Helicopter pilots have shown "overwhelming support" for a strike vote – a move that could cripple the North Sea oil and gas industry.
More than a third of pilots operating in the North Sea attended a meeting organised by their representative body and said they were considering industrial action.
The talks were convened after two of the sector's main carriers announced plans to axe dozens of jobs in response to low oil prices.
The British Airline Pilots' Association (BALPA) yesterday said it was "appalled" by employers' approach to redundancies and accused oil and gas majors of "ruthlessly" exploiting the weak market.
BALPA is now holding a consultation ballot to gauge its members' support for a definitive vote on strike action. The poll closes on Tuesday.
Last night, one industry analyst warned that the North Sea would grind to a halt if the dispute escalates into a full blown strike.
CHC Helicopter and Bristow Helicopters described BALPA's decision as "disappointing" and said safety would remain their top priority.
The ballot represents another body blow for the North Sea energy sector, which has shed thousands of employees since the slump in oil prices started to bite late last year.
Oil and gas companies are also facing the threat of industrial action among offshore workers, who are railing against plans to switch to equal time rotas.
CHC has announced 50 job losses in Aberdeen, while Bristow said it would lay off as many as 130 staff members. About half of those affected are pilots.
Bond, the other major aerial offshore transport provider for the North Sea, has yet to take similar action and declined to comment on the BALPA move.
About 120 pilots attended Thursday's meeting in Aberdeen.
BALPA general secretary Jim McAuslan yesterday called for more to be done to sound out candidates for voluntary redundancy and warned that job losses presented a safety risk to pilots and offshore workers alike.
Mr McAuslan said: "Pilots know that jobs will be lost, but there is a right way and a wrong way of doing it and the helicopter companies need to know that we will not accept their approach.
"For pilots safety is our number one priority and there is a fear that these redundancies may lead to corners being cut and pilots flying when their focus is not 100% on task."
Bristow said it has already opened its redundancy programme to volunteers and vowed to continue looking at ways to "mitigate" the proposed cuts by working with trade unions and employees.
A CHC spokesman said: "The offshore industry continues to face challenging conditions and we, like many other businesses, are having to respond to the current environment.
"We are focussed on conducting a thorough and fair consultation, working with employees and unions, and supporting those who are affected."
Jeremy Cresswell, editor of the Press & Journal's Energy supplement, said a helicopter pilot strike would shut down many operations on the UK continental shelf.
Mr Cresswell said: "Many in the offshore industry might regard North Sea helicopters as being little more or a bus or taxi; a commodity service. But that is the wrong attitude.
"If the pilots were to down tools, then much of the North Sea would grind to a halt. Of course, the oil companies/main contractors have the option of using ships, but that is generally expensive, time-consuming and deeply unpopular among offshore workers.
"That the pilots are prepared to ballot for strike action tells me that management at the big three aircraft providers needs to take a deep breath, step back, reconsider their approach, get back around the table and respect their aviators.
"North Sea pilots do an incredibly dangerous job; they deserve respect. And management would do well to remember that many are ex Royal Air Force."
A spokeswoman from industry body Oil and Gas UK cautioned that industrial action would only make matters worse for the sector.
She said: "The combination of high costs and lower oil prices is proving extremely testing for the industry and operators and contractors across the sector are having to adapt to the challenging business environment.
"Difficult decisions must be made; however, safety remains a core value at the heart of the sector's activities. While the industry responds to these new circumstances, industrial action will only exacerbate the real challenges facing the business."