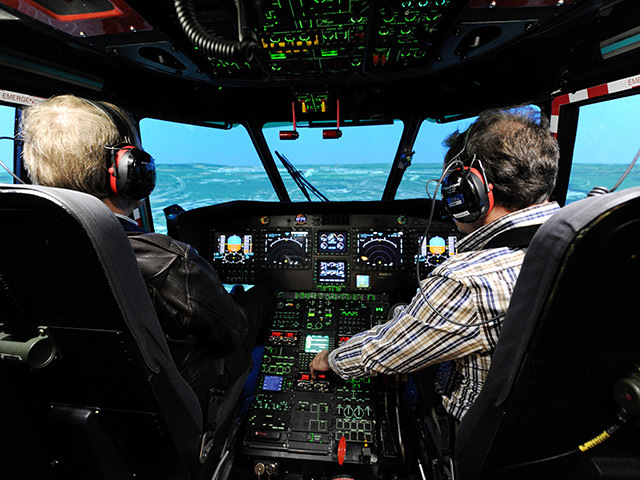 An RAF Typhoon fighter jet flew 200ft underneath a helicopter on its way to a North Sea platform a report by the UK Airprox Board has revealed.
The incident happened at midday on May 13 when the helicopter was flying off the Norfolk coast near Cromer.
The Eurocopter EC155 pilot reported he was cruising at 2,000ft when he was informed a pair of military fast-jets were manoeuvring in the area and had been observed operating down to ground level. As this information was being passed the first of the pair of Typhoons flew in front of the helicopter at approximately 5-7 nautical miles.
One of the helicopter pilots observed a fast-jet, 0.5nm away, coming directly at them approximately 200ft lower.
The second Typhoon passed directly underneath them and then started a rapid climb before both fighter jets flew off and the helicopter continued its journey.
One of the Typhoon pilots said the severity of the incident was "high". The helicopter pilot assessed the incident as a "medium" risk of collision.
The jets were carrying out a "simulated strafe attack" and had chosen a target that was outside their normal flying zone because of poor weather elsewhere.
The Typhoon is the RAF's class-leading multi-role fighter with formidable air-to-ground attack capabilities.
The inquiry concluded the military airmen had made a poor choice of training location given that they knew they were operating near helicopter main routes while relying on slow-updating air traffic information messages from the Swanwick centre in Hampshire.
The board considered that safety margins had been much reduced below the normal and that the near-miss incident should be classed as "B" risk.
The UK Airprox Board comprises experienced aviation experts with first-hand civil and military know-how on Air Traffic Control disciplines. Members are nominated by civil/ military organisations.
Recommended for you

BP goes on trial after oil worker's fatal fall into North Sea