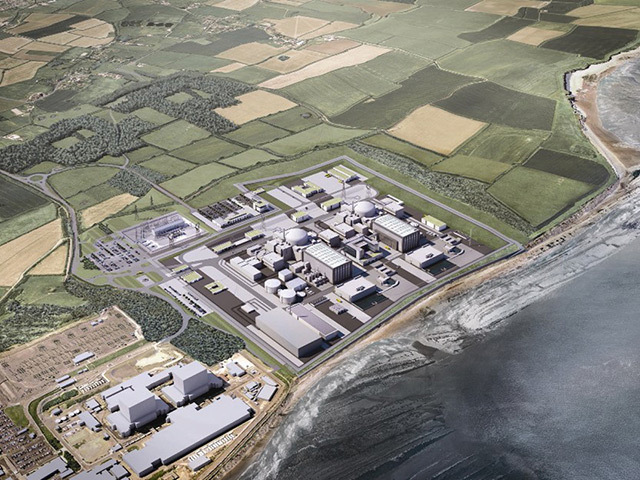 Campaigners have set up a protest camp near the site of the proposed Hinkley Point C nuclear power station.
They have established a camp on a roundabout at the gates of the development in west Somerset as the president of China, Xi Jinping, arrives for a four-day state visit to the UK.
A final decision on the new plant could be announced during Mr Xi's visit and follows last month's decision by Chancellor George Osborne for a £2 billion Government guarantee to secure Chinese funding for the EDF Hinkley Point C scheme.
Outside the site, anti-nuclear protesters have written banners in Chinese and say they want to send a message to the Chinese that Hinkley C would be "a bad investment".
Nikki Clark, from Bridgwater, said: "It is a scandal how Somerset has been led up the garden path by EDF.
"They have trashed this huge area of rich natural heritage and made big promises, but they still can't make their final investment decision.
"Hinkley C is now openly described as a white elephant by the financial sector and even the nuclear industry itself.
"In the past seven days, alarm bells have even been rung by unions and the security services over proposed Chinese involvement in Hinkley C and other nuclear projects.
"The truth is Hinkley C is wrong on every level, and the Government should stop pigheadedly trying to shore it up and switch to supporting the renewable energy revolution."
Theo Simon, of East Pennard, near Shepton Mallet, said Hinkley C had become "a national embarrassment".
"Whether or not Osborne and the Chinese state manage to announce a bailout deal for EDF this week, the project will continue to unravel under public scrutiny," he said.
"The reactor design is already obsolete and if construction actually began at the site then Somerset – and the country – would pay a heavy price, not only in rigged energy bills, hidden subsidies and a legacy of toxic waste, but in wasted years and broken promises.
"The project will be way too late to bridge any energy gap and way too expensive to finish, whereas renewable power could be deployed in the South West now, rapidly and relatively cheaply.
"Ironically, the Chinese are leading the world in renewable energy investment in their own country, where there is also a growing anti-nuclear movement."
Recommended for you

China's climate goals hinge on a $440bn nuclear buildout