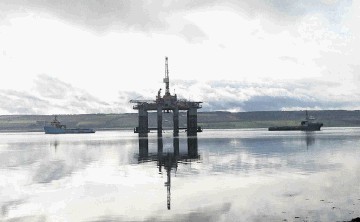 Plans for the next phase of a major expansion of a north port will go on show to the public in December.
The Port of Cromarty Firth hope to attract more huge cruise ships and jobs to the area with the expansion.
It would be the fourth phase of the multi-million pound expansion plans at the Invergordon port, with the proposals including reclaiming an additional 17 acres of land.
The plans are still in the process of being firmed up and public opinion is to be gathered in advance of the two public shows in December.
The port authority will hold its first exhibition at Invergordon Social Club on Tuesday, December 1 and at Resolis Hall the following day.
The phase four project would be built west of the area recently reclaimed in the third phase of the project, which is currently nearing completion.
Elements under consideration for the latest phase include a new 1,148ft berth extension and the provision of a roll-on roll-off facility.
Submissions have been made to Marine Scotland about the new plans and consultations with the public and stakeholders will start next month.
If all goes well, the extension could be operational in 2018.
Chief executive of the port, Bob Buskie said: "This is the early stage of our plans, in fact the final solution is still to be determined and will be based on feedback from the consultation process this autumn.
"We know that facilities in Invergordon need to be improved to attract further business growth and employment opportunities.
"These plans are even more vital in the light of the recent oil and gas downturn.
"We need to ensure the future health of the port and ensure it is a modern multi-use facility."
He added: "Existing facilities need to be enhanced to better manage the growing size of cruise vessels that we increasingly see in the Cromarty Firth, with larger berths and purpose-built facilities.
"We also need to ensure we are fit for purpose for offshore renewables and other oil and gas business opportunities.
"It is crucial to the port that a full consultation process is undertaken and that all feedback is taken into account when assessing the final look and feel of our plans."​
Recommended for you

Hummingbird Spirit FPSO setting off for Cromarty Firth and uncertain future