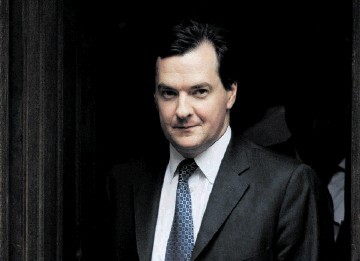 Britons face longer commutes, more expensive energy bills and soaring housing costs because of the failure by successive governments to modernise the UK's creaking infrastructure, George Osborne has admitted.
The Chancellor will use next month's Autumn Statement to set out plans to sell off billions of pounds' worth of public assets to help fund major projects and will commit to invest £100 billion in infrastructure by 2020.
Mr Osborne formally launched the National Infrastructure Commission (NIC), under the chairmanship of former Labour cabinet minister Lord Adonis, which he said would "hold our feet to the fire" with regards to progress on major projects.
At the launch event at York's National Railway Museum, the Chancellor said the commission was a statement of intent that the UK would "plan for the future" and "lead the world".
"We haven't done enough of that in our country in the past," he acknowledged.
"And as a result British people have to spend longer than they should getting to work, they pay more than they should in energy bills, they can't buy the homes they want, all because of the
failure of successive governments – and the societies that elected those governments – to think long term.
"That has started to change: new railway lines are being laid, new roads are being built, new broadband is being installed. Britain has rediscovered its ambition and we are thinking big again."
As part of the funding for the infrastructure projects a "suite of asset sales" which the Treasury expects to raise billions of pounds is being identified by officials, with details expected to be announced at the spending review on November 25.
The infrastructure spending commitment will include confirmation of £15 billion for road projects set out in December last year.
The announcement of the NIC during the Conservative Party conference, and the appointment of Lord Adonis to chair it, raised eyebrows among Labour MPs after their party had promised a similar body.
The membership of the commission, announced today, includes former Olympic Delivery Authority boss Sir John Armitt, who led an independent review of infrastructure for Labour.
Other commissioners include Tory former deputy prime minister Lord Heseltine, who led a review on economic growth for the coalition government, former Bank of England Monetary Policy Committee member professor Tim Besley, artificial intelligence expert Demis Hassabis, architect Sadie Morgan, economist Bridget Rosewell and Victoria & Albert Museum chairman Sir Paul Ruddock.
The commission's initial focus will include work on improving connectivity in northern England – a key part of the Chancellor's Northern Powerhouse agenda.
Other priorities include London's transport systems, including the proposed Crossrail 2, and energy infrastructure.
Mr Osborne said: "The task for the National Infrastructure Commission will be to think dispassionately and independently about Britain's long-term infrastructure needs in areas like transport, energy, communication, flood defence and the like.
"It will collect the evidence, listen to the arguments and will report on what we need to do to build for our future. That will create the kernel around which the national consensus will be created that will guide our democratic decisions and then they will hold us to account for those decisions, hold our feet to the fire."
The launch of the commission comes after business leaders demanded action to improve the country's ageing infrastructure.
The CBI called for urgent action to tackle the UK's "creaking" railways, "clogged" roads and "crowded" airport runways.
Transport Secretary Patrick McLoughlin said the NIC would make "a huge difference" in addressing the UK's previous failure to plan well for big infrastructure projects.
He insisted that it was possible for the advice of an expert commission to speed the delivery of major infrastructure projects, even though the Davies Commission's recommendation of a third runway at Heathrow has so far failed to break the political logjam on the issue.
"Of course there are questions as a result of that report which are now being worked on and we will take a decision in due course," the Transport Secretary told BBC Radio 4's Today programme.
"The Commission did give us options. We are looking at the options it gave us. We are doing the work required to see how these three options stack up … Yes, it has come forward with a
preferred option, but it is right that we listen to the representations we are getting, but also see that some of the things that are suggested in the report are actually do-able."
Shadow chancellor John McDonnell said the Government should take advantage of historically low borrowing costs to fund infrastructure investment.
"You can set up these commissions but unless you commit to the financing of the projects themselves they will simply produce reports that will gain dust on ministers' shelves," he told BBC
Radio 4's World at One.
"That's the problem – under George Osborne infrastructure spending has declined every year and under his current Charter for Budget Responsibility it is to decline even further.
"We are not matching our European competitors which means in the long run we will not be able to compete in the global market."
Mr McDonnell, a long-standing opponent of Heathrow expansion, suggested that improved links between existing airports or development at Gatwick would be a better way forward than a third runway at the site which would badly hit his Hayes and Harlington constituency.
He said: "My view is that a third runway at Heathrow would be an environmental and economic disaster."
Recommended for you

Swedish heat pump firm Aira launches in UK pledging £300m investment